Senate District 12 News

March 4, 2021
Dear Friends,
It has been a very busy week again in the Michigan Legislature. I'm committed to continuing to provide you the most up-to-date information on COVID-19 vaccines, changes to epidemic orders, and opportunities to help those who need it most. In this edition, you can read about:
Legislative Updates
Vaccine Updates
Changes to Restrictions at Restaurants, Indoor Gatherings, and Nursing Homes
Special Enrollment for Health Care Coverage
Expanded Program Now Offering Grants to Specific Program Teachers
MI Home Loan Information from the Michigan State Housing Development Authority
If my office can be of assistance on matters important to you, please contact me! You can call (517) 373-2417, or email me at SenRBayer@senate.michigan.gov.
LEGISLATIVE UPDATES
Recently, the Senate Democrats joined House Democrats to introduce the "Hardworking Michiganders Recovery Plan," which would put more money in the pockets of Michigan's working families and help ensure no worker is left behind during the ongoing COVID-19 pandemic.
Identical legislation will be introduced in the Senate and the House to:
Increase the weekly maximum for unemployment benefits from $362 to $593, and one year later restore indexing this figure to 58% of the state average weekly wage annually.
Restore the number of benefit weeks from 20 weeks to 26 weeks, reversing the reduction to 20 weeks passed by legislative Republicans in 2012.
Increase what unemployed workers who don't qualify for the weekly maximum unemployment benefit receive from 4.1% to 6.1% of their highest quarter earnings.
It is imperative we get relief to those who've suffered the most through this pandemic. Doing so would be in the best interest of our economy and our future as a state. You can learn more about this bill package on my Facebook page, here.
VACCINE UPDATES
The new Johnson and Johnson one-shot vaccine has just been approved for emergency use by the Food and Drug Administration (FDA). The company said it plans on distributing 20 million shots nationwide by the end of March.
It is my hope that we are moving to a point where all eligible people will be able to get the vaccine at a location near them within the next several months. Until then, I advise you to find a local vaccine by visiting https://vaccinefinder.org/. This free, online service provides a list of potential nearby vaccination locations to users. Simply plug in your ZIP code and it will give you all the vaccination sites within a specified distance from your home.
For information from the state on COVID-19 and the vaccinations please go Michigan.gov/Coronavirus or call the state's COVID-19 hotline at 888-535-6136.
People without Internet access can also call the United Way for Southeastern Michigan's 2-1-1 hotline for help finding a location. In addition, make sure you are registered with your hospital system, as most are providing vaccines to seniors and frontline workers already.
If you live in Oakland County, go to the Oakland County Vaccine Hub website at OaklandCountyVaccine.com and complete the "Save Your Spot" form. They use this to set appointments. If you are high priority, they will see that from your answers to the questions and contact you sooner rather than later. If you do not have access to the Internet or cannot complete the form, you can call the Oakland County Nurse on Call (NOC) line at 1-800-848-5533 and they will complete the registration for you.
Pharmacies across the state are also starting to offer vaccinations to those age 65 and up, as well as frontline workers. Click the links below for more information:
Finally, please follow me on Facebook. When I hear of an open vaccination clinic, I will post it, in addition to vaccination updates I post every Friday.
NEW! CHANGES FOR RESTAURANTS, INDOOR GATHERINGS, NURSING HOMES
On Tuesday, March 2, the Michigan Department of Health and Human Services (MDHHS) updated two of its epidemic orders, allowing for increased capacity limits at various venues, larger residential and nonresidential gatherings, and expanded visitation opportunities at residential care facilities. Below is an overall graphic related to the changes: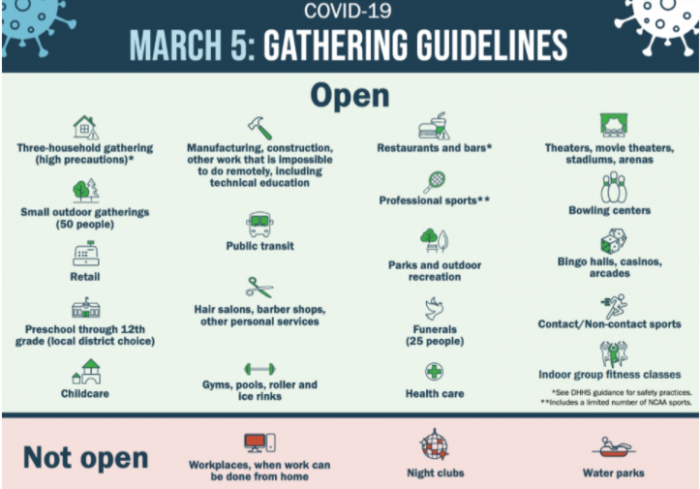 Restaurants, Indoor Gatherings
Changes to the Gatherings and Mask Order go into effect Friday, March 5, and remain in effect through Monday, April 19. Capacity changes include:
Restaurants and bars can be at 50% capacity, up to 100 people. Tables must be six feet apart with no more than six people per table. There is now an 11 p.m. curfew.
Indoor non-residential gatherings where people interact across households are permitted up to 25 people, allowing public meetings and other small indoor gatherings to resume.
Outdoor non-residential gatherings where people interact across households are permitted up to 300, allowing larger outdoor events to resume.
Indoor entertainment venues can be at 50% capacity, up to 300 people.
Exercise facilities can be at 30% capacity, with restrictions on distancing and mask requirements.
Retail can be at 50% capacity.
Casinos can be at 30% capacity.
Indoor stadiums and arenas are allowed have 375 if seating capacity is under 10,000; 750 if seating capacity is over 10,000.
Outdoor entertainment and recreational facilities may host up to 1,000 patrons.
Indoor residential gatherings are now limited to 15 people from three households, while outdoor residential gatherings can include up to 50 people, as demonstrated below: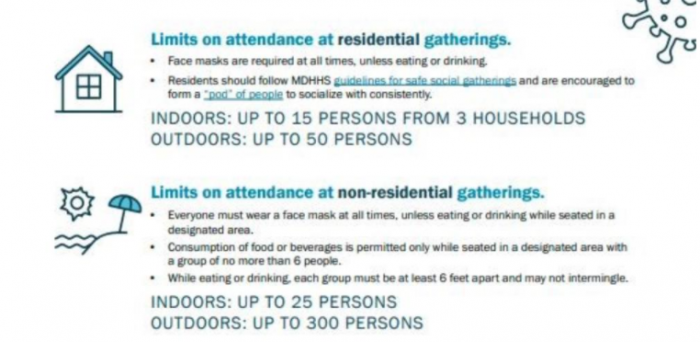 The epidemic order continues to temporarily pause other venues and activities where participants have close physical contact and are not consistently masked, like water parks. As before, employees who work in jobs that cannot be performed from home can continue to go to work, while employees who can work from home should continue to do so.
Nursing Homes
With all residents at skilled nursing homes having been offered their first dose of COVID-19 vaccine and a vast majority having had their second dose, the Residential Care Facilities Order goes into effect immediately.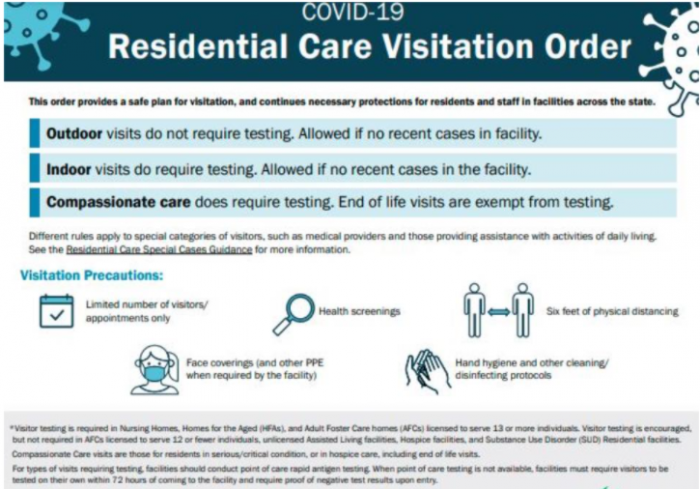 The order encourages communal dining and group activities for residents, and it allows indoor and outdoor visitation in all counties regardless of county risk level. Visitation is allowed if the facility has not had a new COVID-19 case in the last 14 days. All indoor visitors ages 13 and older are subject to rapid antigen testing. Visitors will be required to wear face masks or other personal protective equipment, as well as continuing to maintain six feet from residents.

Information around this outbreak is changing rapidly. The latest information is available at Michigan.gov/Coronavirus and CDC.gov/Coronavirus. To learn more about the COVID-19 vaccine, visit Michigan.gov/COVIDvaccine. 
Household income limits, which can vary depending on family size and property location.
Sales Price limit – $224,500 statewide.
Minimum credit score of 640, or 660 for multiple section manufactured homes.
SPECIAL ENROLLMENT PERIOD FOR HEALTH CARE ONGOING
In accordance with an Executive Order signed by President Biden, the U.S. Centers for Medicare and Medicaid Services (CMS) is offering a special enrollment period through May 15, 2021, so you and your family can have health care during this unprecedented time.
Whether you are uninsured or in need of a different plan — perhaps at a lower price — now is the time to find out if you qualify for financial assistance to help pay for health insurance, as 9 out of 10 consumers enrolled in coverage from HealthCare.gov do, according to CMS. They estimate 75% of consumers can purchase a plan for $50 or less per month after financial assistance.
All the plans at HealthCare.gov cover essential health benefits, such as primary care visits, and cover many preventive care services with no out-of-pocket costs to the consumer.
Don't delay! Visit HealthCare.gov to see if you qualify for assistance or if there is a better, cheaper option for your medical needs available through the marketplace.
EXPANDED GRANT PROGRAM PROVIDES $2.5 MILLION FOR SPECIFIC PROGRAM TEACHERS
On Monday, March 1, Gov. Gretchen Whitmer and State Treasurer Rachael Eubanks announced the expansion of the MI Classroom Heroes COVID-19 grants to include a new grant program for Great Start Readiness Program
(GRSP), Head Start, adult education, and young adult (ages 18-26) special education classroom teachers.
The GRSP, Head Start, Adult Education and Young Adult Special Education Teacher COVID-19 Grant Program enables these specific program teachers to receive up to $500 for extra hours worked and costs incurred during the beginning of the COVID-19 pandemic last spring.
A state budget appropriation signed by Governor Whitmer at the end of 2020 provides $2.5 million to make specific program teachers eligible to receive a MI Classroom Heroes COVID-19 Grant, who were not eligible under previous programs.
Eligibility
Full-time and part-time GRSP, Head Start, adult education and young adult special education teachers in a school district or nonprofit nonpublic school classrooms during the 2019-2020 school year prior to moving to remote learning are eligible.
To receive up to $500, specific program teachers must have performed at least of 75% of their standard instruction workload in brick-and-mortar classrooms to moving to remote instruction on April 2, 2020.
How to receive a grant
The state Treasury Department is working with the Michigan Department of Education, school entities, and other education partners to implement MI Classroom Heroes COVID-19 Grants. Eligible specific program teachers should consult the school entity where they worked during the 2019-2020 school year to ensure they receive a grant.
Grant-funding checks for the GRSP, Head Start, Adult Education, and Young Adult Special Education Teacher COVID-19 Grant Program are anticipated to be sent directly from the state Treasury Department to teachers in June.
More information
For more information about MI Classroom Heroes COVID-19 Grants, visit Michigan.gov/MIClassroomHeroes.
MI HOME LOAN FROM MSHDA
The MI Home Loan program is a mortgage product available to first-time homebuyers statewide, as well as repeat homebuyers in targeted areas, through the Michigan State Housing Development Authority (MSHDA). All homebuyers work directly with a participating lender.
This program is a first-come, first-served scenario, and some eligibility requirements exist, including:
For more information on this program or to see if you qualify for down payment assistance up to $7,500, visit their website.
MARCH IS READING MONTH
On Monday, March 1, Gov. Gretchen Whitmer issued a proclamation declaring the month of March as Reading Month in Michigan. Throughout the month, schools, children, and adults alike use this time to promote the importance of reading.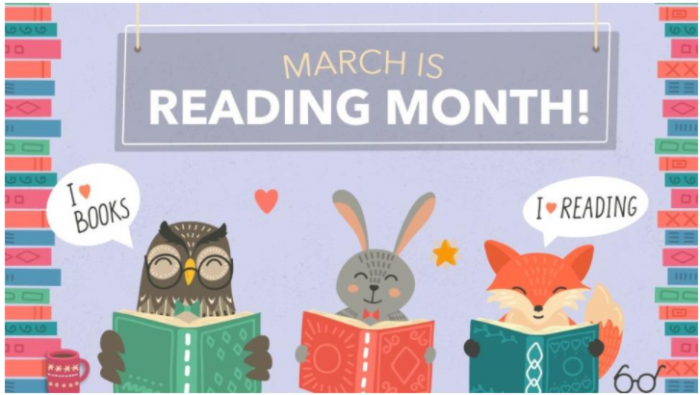 The governor is committed to ensuring students and schools have the resources they need to learn and teach safely. That is why, in January, Governor Whitmer proposed her MI COVID Recovery Plan that invests $1.7 billion directly to our schools. She also proposed her Fiscal Year 2022 executive budget recommendation that makes the largest investment in K-12 schools in Michigan history.
A report from MSU and the Education Policy Innovation Collaborative (EPIC) showed that 97% of school districts have met the governor's goal to get students back to in-person learning by March 1.
Download your Michigan bookmark
Download your own Michigan bookmark from my website, color it, and enjoy using it with your favorite book!
Be well,

Rosemary Bayer
State Senator
District 12