Senate District 12 News & Updates

April 16, 2021
Dear Friends,
It is important to remain vigilant about handwashing, mask-wearing, and social distancing as well as avoiding large indoor gatherings and indoor dining with others as positive cases of COVID-19 in Michigan are the worst in the nation right now. While we can speculate on any number of reasons for this, the reality is simply that we need to get our numbers down if we want to have a semi-normal summer, and the easiest thing to do is what we have been doing — even after you get vaccinated.
To the point of vaccinations, I encourage you to visit my Facebook page — don't worry, you don't need to have an account! — every Friday for the latest information on when, where and how to get your shots.
I have also included in this e-newsletter some additional information regarding the federal request to temporarily pause use of the Johnson & Johnson (J&J) vaccine. It is worth noting that, while some have had a serious, adverse reaction to this vaccine, millions of others have received this shot with no such reactions. Every person is different. Of course, if you are concerned you may be having a reaction to any of the vaccines, please see a health provider as soon as possible.
VACCINE UPDATES: JOHNSON & JOHNSON PAUSED, COVID ANTIBODY THERAPIES COMING TO MICHIGAN
Federal Agencies Urge Pause on Use of Johnson & Johnson Vaccine
On Tuesday, April 13, based on recommendations from Food and Drug Administration (FDA) and the Centers for Disease Control and Prevention (CDC), the Michigan Department of Health and Human Services asked all Michigan providers to temporarily pause the administration of the Johnson & Johnson vaccine.
This temporary recommendation is based on the identification of six reported U.S. cases of a rare and severe type of blood clot in individuals after receiving the Johnson & Johnson vaccine. In these cases, a type of blood clot called cerebral venous sinus thrombosis was seen in combination with low levels of blood platelets (thrombocytopenia). These adverse reactions appear to be extremely rare, as more than 6.8 million doses of the Johnson & Johnson vaccine have been administered in the United States as of April 12, with nearly 200,000 of those doses administered in Michigan.
Vaccine providers across the state have been instructed not to administer this vaccine at this time while the CDC and FDA review further data and assure clinicians are identifying and reporting any potential adverse reaction. Clinics that are scheduled to administer the Johnson & Johnson vaccine will either reschedule or use a different vaccine.
People who have received the Johnson & Johnson vaccine and who develop a severe headache, abdominal pain, leg pain or shortness of breath within three weeks after vaccination should contact their health care provider. Health care providers are asked to report adverse events to the Vaccine Adverse Event Reporting System.
Antibody Therapy Being Used to Treat COVID-19
On Wednesday, April 14, Gov. Gretchen Whitmer and the Michigan Department of Health and Human Services announced the state is working to expand the use of a medical intervention — monoclonal antibodies — designed to significantly reduce hospitalizations and deaths due to COVID-19. Additional doses are being made available to providers to expand the number of infusion sites in the state.
Monoclonal antibodies (mAb) are laboratory-produced molecules that can restore, enhance, or mimic the immune system's attack on cells. Clinical trials have shown promising data that this therapy works for the treatment of COVID-19 in patients who are at high risk for progressing to severe symptoms and/or hospitalization, including older Michiganders. It's administered through an intravenous infusion and is designed for people who have tested positive for COVID-19 and have mild to moderate symptoms, and it's not intended for hospitalized patients.
To date, preliminary data suggests more than 6,600 Michiganders have received mAb treatment with 65% reporting feeling better with two days and less than 5% of them requiring hospitalization following treatment.
Additional information on monoclonal antibody therapy can be found at the U.S. Department of Health and Human Services'  Combating COVID website and Michigan.gov/COVIDTherapy.
LEGISLATIVE UPDATE: VOTING AND PAYROLL FRAUD
As you may have read by now, my Republican colleagues have introduced a 39-bill package of legislation aimed at making it more difficult to vote. And that's not just my opinion — others who have also read the bills and done the analysis agree.
I spoke out against these efforts to limit our essential freedom to vote during session this week. Check out my speech below!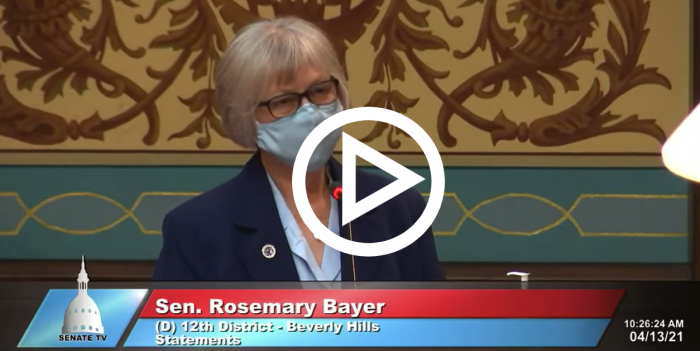 Fortunately, some of Michigan's largest job-creators are also opposed to these efforts to limit the rights of the people of Michigan. Of course, I'll keep advocating for your freedom to vote, because the people should be electing their officials — not the other way around.
Ending Payroll Fraud
On Thursday, April 15, Gov. Gretchen Whitmer teamed up with the Michigan Regional Council of Carpenters and Millwrights and local businesses to reiterate support for the purpose of her Michigan Jobs First executive directive: that those seeking to bid on state contracts are committed to providing fair and competitive wages and benefits to their workers. I support the governor in this endeavor, because our communities thrive when Michigan workers are treated fairly and with respect. That starts in our workplaces and with jobs right here at home.
Among its key provisions, the Michigan Jobs First executive directive would require companies who bid on state projects to complete a vendor questionnaire that asks them to:
Disclose all relevant records, including information on their compliance with labor and environmental laws and regulations, and any investments made in Michigan's economically distressed areas.
Certify their workforce is accurately classified as employees, and not independent contractors or 1099 workers.
Include information on the likely economic impact of the project they seek to complete.

REMINDER: TAXES ARE DUE MONDAY, MAY 17
Michigan taxpayers are reminded that they should file their state individual income tax returns before midnight on May 17, according to the Michigan Department of Treasury.
On March 19, Gov. Gretchen Whitmer secured bipartisan support to give Michiganders more time to file their individual income tax returns. For the benefit and convenience of taxpayers, both the beginning and end of income tax filing season are the same as the dates set by the Internal Revenue Service.
Individual taxpayers who need additional time to file beyond the May 17 deadline can request an extension to Oct. 15, 2021. Taxpayers requesting additional time to file should estimate their tax liability and pay any taxes owed by May 17, 2021, to avoid additional interest and penalties.
Taxpayers who are owed a refund are encouraged to file their state income tax returns, so they can receive their refunds. More information about e-filing is available at Michigan.gov/MIFastFile.
GOVERNOR ANNOUNCES FEDERAL FUNDING PRIORITIES
Many Michiganders have already received stimulus checks from the federal government through the federal American Rescue Plan Act, but few know that state and local government, as well as K-12 schools, were also set to receive some financial benefits from the Act.
So, on Monday, April 12, Gov. Gretchen Whitmer announced her funding priorities as the state readies for more than $18 billion in federal funding. Of that, state government is expected to receive $5.7 billion in additional federal funding, while local governments can expect about $4.4 billion to be made available, and K-12 schools will see some $3.9 billion.
Overall, the governor said key priority areas for investment of these funds include job creation, infrastructure, access to health care, and children and their education. Specifically, the governor supports:
Grant programs for small businesses and supporting Michigan's community development financial institutions to compliment the traditional lenders supporting businesses through Paycheck Protection Program loans.
Creating a small business accelerator to provide startup capital and support for entrepreneurs.
Business attraction efforts to invest in future technologies, mobility, and advanced vehicle technology research and development.
Workforce opportunities and talent retention efforts.
Infrastructure improvements, such as:

Access to clean drinking water,
Reliable broadband,
Public green spaces, and
Climate resilient dams and local infrastructure.

Improving public health capacity, expanding access to behavioral health supports, additional services to the aging and expanded options to age in place, as well as redesigned and integrated access to state benefits.
Making long-term investments in our children and the next generation, including:

Expanding access to preschool and childcare,
Addressing pandemic learning loss,
Creating out of-school learning opportunities,
Providing wraparound supports for mental health and social-emotional well-being,
Creating safe learning environments, and
Providing incentives to improve teacher recruitment and retention efforts.
INFORMATION ON NEW EXPUNGEMENT LAWS
On Monday, April 12, Michigan Attorney General Dana Nessel announced a new Department of Attorney General webpage devoted to informing Michigan residents on the state's new expungement laws, when they go into effect, the eligibility requirements, forms, and downloadable checklists.
As of April 11, a person convicted of one or more misdemeanor or local ordinance marijuana crimes may petition the convicting court to set aside the convictions if they were based on activity that would not have been a crime after December 6, 2018 — when a voter-approved initiative to legalize recreational use of marijuana in Michigan went into effect. By visiting the webpage, Michiganders can access the filing and service requirements, a checklist specifically designated for misdemeanor marijuana offenses, and frequently asked questions.
Also, as of April 11, a person convicted of one or more criminal offenses including felonies but not more than a total of three felonies, may petition the convicting court to set aside the convictions.  By visiting the webpage, Michiganders can access the filing and service requirements and a checklist specifically designed for this part of the expungement law. The Attorney General has also established an email address specifically devoted to answering questions on the new expungement laws.  
In the coming weeks, the Attorney General's office plans to announce additional phases to its expungement assistance initiative. The most up-to-date information will be available via the webpage.  
Questions on the expungement process or any information provided on the Department expungement webpage can be directed via email to ag-expungements@michigan.gov.
MIOSHA EXTENDS EMERGENCY RULES TO OCTOBER 14
As broad community spread of COVID-19 continues, the Michigan Occupational Safety and Health Administration (MIOSHA) has extended its emergency rules to protect Michigan workers, businesses, customers, and communities from the spread of COVID-19.
While the emergency rules have been extended until October 14, 2021, they can be modified or withdrawn at any time in response to changes in COVID-19 spread.
Since March 2020, employers have reported more than 40 worker deaths from COVID-19 in Michigan and MIOSHA has received over 12,000 complaints from employees alleging COVID-19 hazards in the workplace. In addition, more than 605 referrals were received from local government, including local health departments, indicating that businesses were not taking all the necessary measures to protect their employees from infection.
According to data released Sept. 3 through April 1, as reported to Michigan Department of Health and Human Services (MDHHS) by local public health departments workplace outbreaks include 670 in manufacturing and construction, 250 in restaurants and bars, 374 in retail, 332 in office settings, and 52 in personal care services. This data demonstrates the need for the rules extension and employer strategies that ensures the protection of hardworking Michiganders.
Under the emergency rules, employers must continue to implement policies that require remote work for employees where remote work is feasible, to help ensure that COVID-19 transmission is mitigated to the maximum extent possible. While in-person work is permitted when remote work is not feasible, remote work is recommended as a strategy to minimize in-person contacts and is included in guidance from the CDC and Federal OSHA to protect employees in the workplace.
Employers and employees with questions regarding workplace safety and health may contact MIOSHA using the new hotline at 855-SAFE-C19 (855-723-3219). To learn more about the efforts to support a safe reopening in Michigan, visit Michigan.gov/COVIDWorkplaceSafety.
CONNECT WITH ME AT UPCOMING EVENTS
As the COVID-19 pandemic is ongoing, my events will continue to be virtual. For more information, including how to register, please visit my Facebook page (you don't need to have a Facebook account!) and click on "Events," or visit my website.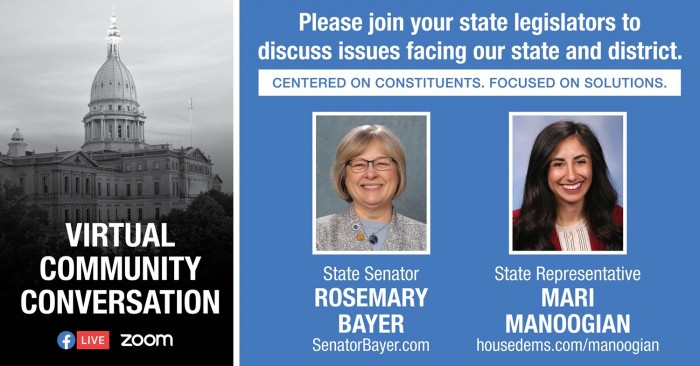 Monday, April 19 at 5:30 p.m.
Virtual Community Conversation with Rep. Mari Manoogian
Join me and Rep. Mari Manoogian for a casual and candid conversation about happenings in and around our district and state.
Monday, April 26 at 5:30 p.m.
Coffee, Computers and Conversation on Facebook Live!
This coffee hour is simple and easy! Grab your computer, your coffee and come chat with me from the comfort and safety of your own home or office. I'll fill you in on the latest happenings in the state legislature and around our community.
No registration required!
Be well,

Rosemary Bayer
State Senator
District 12