Senate District 12 News & Updates

July 22, 2021
Dear Friends,
I hope you are enjoying a safe and healthy summer. Please continue to take measures to protect yourself, your family, and our community from the COVID-19 virus so we can all take advantage of the beautiful weather here in Michigan!
Throughout the summer, I have been working with my colleagues in the Legislature to ensure a smooth transition back into the school year and thanks to new legislation, gaps in education are being addressed. I am also working toward meeting and connecting with you as I go door to door, and planning events where we can talk about community issues.
In addition, this newsletter includes information on various topics, including details on the K-12 budget that was recently signed into law, how to protect yourself against ticks this year, important information regarding an increase in Legionnaire's disease in Michigan, a new option now available through the Secretary of State's office to have a designation added to your driver's record if you have a communication impediment, additional health care coverage options now available, and helpful tips for those of you with college students as it relates to student financial aid. And, with local elections right around the corner, if you're voting by absentee ballot, I've included information about how you can make sure your ballot is returned on time!
As always, if my office can be of assistance to you or your family, please call me at 517-373-2417 or email me at SenRBayer@senate.michigan.gov. 

Rosemary Bayer
State Senator
12th District

LET'S CHAT! HOW MY OFFICE IS COMING TO YOU THIS SUMMER
Look out for me or members of my team this summer as we continue to go door-to-door, giving community members like yourself the opportunity to share your thoughts and ideas regarding what's going on in the community and ways I can work to make it a better place to live and work.
Senator Stephanie Chang and I embarked on a successful walk July 13, where we met you and spoke with members of the community about how we, as elected officials, can work better for you. Today (July 22) I will be out walking with Representative Kyra Bolden, who is also looking forward to connecting with you.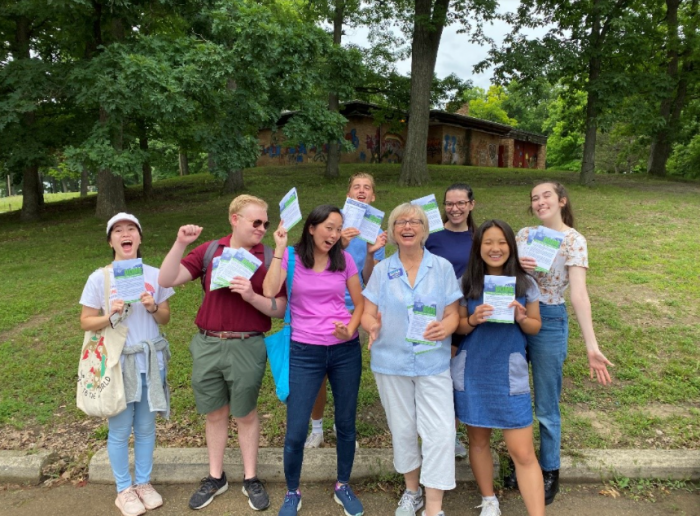 I am deeply committed to being an elected official who is readily available to meet and speak with my neighbors. So far, my team and I have been able to knock on more than 6,000 doors, and are ready to continue to meet you, hear what you have to say, and return to the office to work on legislation that tackles the problems or concerns you may have.
UPCOMING EVENTS
Conversation with Sen. Bayer & Rep. Brenda Carter
WHEN: Friday, Aug. 6 from Noon to 1 p.m.
WHERE: Hawthorne Park, 1400 Telegraph Road, Pontiac, MI 48340
>> RSVP to the Facebook event.
Senior Summit Town Hall
with Special Guests Dana Nessel, Rep. Kyra Bolden, and Oakland City Treasurer Robert Wittenberg
WHEN: Tuesday, Aug. 24 from 11:30 a.m. to 1:30 p.m.
WHERE: Beverly Hill Village Park, 18801 Beverly Road, Beverly Hills, MI, 48025
>> RSVP to the Facebook event.
Virtual Computers and Conversation
WHEN: Monday, Aug. 30 from 5:30 to 6:30 p.m.
WHERE: Sen. Bayer's Facebook Page
>> RSVP to the Facebook event.
GOV. WHITMER MAKES LARGEST INVESTMENT IN K-12 SCHOOLS IN STATE HISTORY
Last week, on Tuesday, July 13, Gov. Gretchen Whitmer signed the School Aid budget into law in the presence of students, educators, and school administrators at Kentwood Public Schools. The signing of House Bill 4411 marked a historical moment for the state by reaching the goal of eliminating the funding gap between districts at the minimum and maximum foundation allowances, as set forth by Proposal A of 1994.
Like the supplemental education bill signed a few weeks ago, this Fiscal Year 2022 spending bill took many months of negotiations, but we rolled up our sleeves and got it done. I was thrilled to be a part of this work. That said, there is still much work to be done to make education funding more equitable here in Michigan. All our students deserve a top-notch quality education. I am currently in a workgroup with several other State Senators and House Representatives working on just that. It's a process, but know that we are focused on it!
The bill signed into law finalizes the fiscal year 2022 School Aid budget, which totals $17.1 billion including $85.4 million from the state's General Fund. It also provides cost adjustments and supplemental funding for the current 2021 year.
The budget includes $723 million to eliminate the gap between the minimum and maximum foundation allowance by setting both at $8,700 per pupil, an increase of $589 per pupil from the current year minimum amount and an increase of $171 per pupil from the current year target amount. In addition, intermediate school districts will receive a 4% operational funding increase.
The FY 2022 School Aid budget also increases access to early education through the Great Start Readiness Program, which provides preschool to families at or below 250% of the federal poverty level. The new investment includes $121 million in federal funding and $47.5 million from the School Aid Fund, for a total investment of $168.5 million. The full day per child allocation is increased from $7,250 to $8,700 and additional funding is provided to expand the program. The expansion is the first of a three-year phase-in which seeks to ensure access to 22,000 additional income-eligible children by the fourth year.
In addition to closing the gap and increasing access to preschool programing, the 2022 School Aid Budget makes strategic investments as follows:
Providing $240 million over 3 years for additional hirings of school counselors, psychologists, nurses, and social workers in high-need districts. After 3 years, these new hires will be fully funded in an ongoing manner by the district.
Supporting school-based mental health programming with a $17 million increase which will help ensure our students have access to the resources they need to live happy and healthy lives.
Investing $74.2 million into Special Education to ensure our students and educators can excel in the classroom.
Providing funds for students who need them the most through a weighted funding formula which distributes education dollars more equitably by maintaining funding for those economically disadvantaged and adding $1.5 million for dental screenings; supporting the needs of English Language Learners with a 4% funding increase and investing $12.2 million to eliminate the proration of funding; and increasing funds distributed to small, rural, and isolated districts by $1.4 million, bringing the total added funding to $8.4 million.
Incentivizing districts to adopt a year-round school calendar by helping to provide for HVAC and infrastructure improvements that will improve learning spaces. An investment of $75 million in federal funding will assist in providing matching grants and $60 million from the School Aid Fund will increase foundation allowances for eligible districts by 3% for three years.
Allocating $11.5 million for benchmark assessments to better gauge student progress and intervention needs.
Earmarking $10 million to support school safety initiatives, with funding of up to $50,000 per school building or $250,000 per school district.
Providing $2.4 million to support children impacted by the Flint Water Crisis.
MICHIGANDERS URGED TO PREVENT TICK BITES
The Michigan Department of Health and Human Services (MDHHS) is encouraging Michigan residents to take steps to avoid tick bites when enjoying the outdoors this summer. Tick-borne diseases, particularly Lyme disease and anaplasmosis, are increasing across the state.
Signs and symptoms of tick-borne disease typically begin one to two weeks after a tick bite or being in wooded or brushy areas where ticks commonly live. Early symptoms can be non-specific and include fever or chills, rash, headache, fatigue, and muscle aches. Early treatment with appropriate antibiotics can decrease the risk of serious complications.
Protect yourself and your family against tick-borne diseases by following these tips:
Avoid tick-infested areas:
As ticks live in grassy, brushy, and wooded areas, walk in the center of trails to avoid contact with overgrown grass, brush, and leaf litter at trail edges.
Protect your pets — dogs and cats can encounter ticks outdoors and bring them into the home. Talk with your veterinarian about the best tick prevention products for your pet.
Use insect repellent:
Apply repellent containing DEET or Picaridin on exposed skin.
Treat clothes (especially pants, socks and shoes) with permethrin, which kills ticks on contact or buy clothes that are pre-treated. Do not use permethrin directly on skin.
Always follow the manufacturer's instructions when applying repellents.
Perform daily tick checks:
Always check for ticks on yourself and your animals after being outdoors, even in your own yard.
Inspect all body surfaces carefully and remove attached ticks with tweezers. To remove a tick, grasp the tick firmly and as closely to the skin as possible. With a steady motion, pull the tick's body away from the skin. Cleanse the area with an antiseptic.
Bathe or shower:
Bathe or shower as soon as possible after coming indoors (within two hours) to wash off and more easily find ticks that are crawling on you.
Wash clothing in hot water and dry on high heat to help kill ticks in clothing.
Not all ticks spread the same germs. MDHHS can help to identify ticks you may encounter outdoors. Residents can email photos of ticks to MDHHS-Bugs@michigan.gov for identification. Michiganders can also submit ticks to MDHHS for identification free of charge. For more information on how to submit your tick and/or photos, visit Michigan.gov/lyme.
STAY SAFE! MICHIGAN EXPERIENCING INCREASE IN LEGIONNAIRES' DISEASE
The Michigan Department of Health and Human Services (MDHHS) is coordinating with local health departments across the state to investigate a recent increase in reports of Legionnaires' disease, an infection with symptoms that include fever, cough, and pneumonia.
Between July 1 and July 14, 107 cases of Legionnaires' disease have been reported in 25 counties. While increases in cases are often related to environmental factors, including heat and rainfall, this represents a 569% increase from referrals from the same period in 2020 (16 cases) and a 161% increase from referrals from the same period in 2019 (41 cases). While legionellosis cases are most common in the summer and early fall when warming, stagnant waters present the best environment for bacterial growth in water systems, this increase is higher than expected for Michigan for this time of year. To date, no common sources of infection have been identified.
Confirmed cases include 19 in Wayne County, 17 in Oakland County and in the City of Detroit, and 15 in Macomb County. Transmission to people occurs when mist or vapor containing the bacteria is inhaled. Legionnaires' disease does not spread person to person. Risk factors for exposure to Legionella bacteria include:
Recent travel with an overnight stay.
Recent stay in a health care facility.
Exposure to hot tubs.
Exposure to settings where the plumbing has had recent repairs or maintenance work.
Most healthy individuals do not become infected after exposure to Legionella. Individuals at a higher risk of getting sick include the following:
People over age 50.
Current or former smokers.
People with chronic lung disease.
People with weakened immune systems from diseases, such as cancer, diabetes, or liver or kidney failure.
People who take immunosuppressant drugs.
Individuals with any concerns about Legionnaires' disease or exposure to the Legionella bacteria should talk to their doctor. MDHHS and local health departments will continue to monitor cases and provide updates to the public. More information on Legionella and Legionnaires' disease can be found on the Centers for Disease Control and Prevention website.
COMMUNICATION IMPEDIMENT DESIGNATION CAN NOW BE ADDED TO DRIVER'S RECORD
On Monday, July 19, Secretary of State Jocelyn Benson was joined by representatives from several autism and deaf, deafblind, and hard of hearing advocacy groups to highlight recent changes to Michigan law that allow residents to add a communication impediment designation to their driving record that would help ensure better, safer interactions with law enforcement.
The communication impediment designation program was developed to assist law enforcement in their interactions with the public. Being alerted to the needs of individuals with a communication impairment will assist law enforcement in their interactions with these individuals, promoting clarity and understanding. Environmental factors, such as flashing lights and sirens, can also be controlled to help individuals who are sensitive to that type of external stimulation.
The communication impediment designation program is voluntary and there is no cost to apply. The designation is not printed on the actual license, ID, or vehicle registration, but added to the individual's record. To add the designation, individuals may submit a communication impediment designation form to the department by mail, email, or fax. Forms may also be submitted during a branch office visit.
A licensed physician, physician assistant, certified nurse practitioner, or physical therapist must certify that the individual requires special considerations when communicating. Legislation to add audiologists, speech-language pathologists, and psychologists to the list of health care professionals allowed to certify about an individual's special communication needs is currently pending.
NEW CONSUMER CHOICES ON HEALTH INSURANCE MARKETPLACE FOR 2022
Highlighting Michigan's increasingly competitive health insurance market, the Michigan Department of Insurance and Financial Services (DIFS) has reported that consumers will have more health plan options from an increased number of insurers on the Health Insurance Marketplace for the upcoming open enrollment period.
Open enrollment for 2022 coverage runs from November 1 through December 15, 2021, and Michiganders can obtain coverage by visiting the Health Insurance Marketplace or by calling 800-318-2596 (TTY: 1-855-889-4325). Consumers will be able to choose from 175 health plans on the Marketplace, 47 more than last year, offered by the following companies:
Blue Care Network of Michigan
Blue Cross Blue Shield of Michigan Mutual Insurance Company
McLaren Health Plan Community
Meridian Health Plan of Michigan, Inc.
Molina Healthcare of Michigan, Inc.
Oscar Insurance Company
Physicians Health Plan
Priority Health
United Healthcare Community Plan
U.S. Health and Life Insurance Company
For the overall individual market, which includes off-Marketplace plans, 257 plans will be available, 52 more than last year. As always, DIFS encourages consumers to carefully shop around to find the best plan for themselves, their families, and their budget.
Michiganders who still need health coverage for 2021 are encouraged to take advantage of low and no-cost health insurance options that are available under the current special enrollment period which runs through August 15. Additional information is available on the DIFS website or by calling DIFS 8 a.m. to 5 p.m. Monday through Friday at 877-999-6442.
SEVEN WAYS TO BE ALERT AND INFORMED WHEN CONSIDERING STUDENT LOANS
As Michiganders prepare for the upcoming fall semester and start paying their college tuition bills, the Michigan Department of Treasury's MI Student Aid Team is asking students and their families to be alert and informed when considering student loans.
To make the best decision regarding student loans, the MI Student Aid team recommends seven financial aid best practices tips:
Complete the Free Application for Federal Student Aid (FAFSA). Colleges use information from the FAFSA to determine their financial aid awards. By completing and submitting the FAFSA, students maximize all their financial aid options.
Understand loans must be repaid. Not all financial aid included in a financial aid award letter is free money. Many financial aid awards will include federal student loans. Unlike grants and scholarships, loans must be repaid with interest.
Check the amount of interest being offered on a loan before accepting it. Federal student loans, Parent Loan for Undergraduate Students (PLUS) loans, and private loans have varying interest rates and repayment terms. Before taking out loans, students should identify and compare each loan's interest rate and then accept the loans with the best interest rates and repayment terms.
Only accept the amount you will need. Students can either turn down a loan or request a smaller loan amount, and the financial award letter should include instructions on how to do this.
Be aware of loan scams. In a typical student loan scam, a scammer will ask for banking information from a student searching for loans. The scammer typically claims they will use the information to make a direct deposit into a student's account in return for upfront fees and gift cards. Instead, the scammer accesses the student's banking account and withdraws funds. In addition, be aware of repayment scams. You don't have to pay for help when repaying student loans. Contact your servicer if you have repayment questions.
Visit the school's financial aid office once a semester. Even though students may not have to begin repaying their loans while they are in school, students should not wait to understand their responsibilities. Students should know the status of their college's or university's student account and keep track of the types of aid they receive. By making this a habit, students can avoid overborrowing and stay within their budget.
Create a studentaid.gov account. Studentaid.gov, managed by the U.S. Department of Education, is a one-stop shop for managing federal student aid. With a studentaid.gov account, students can track all their student loans, check the interest rate of each one and total interest accumulated to date. Students can also look over different repayment options, estimate monthly payments and learn who their loan servicer is for when repayment begins.
For more information, visit Michigan.gov/mistudentaid or contact MI Student Aid at mistudentaid@michigan.gov, 1-888-447-2687 or @mistudentaid on Facebook, Twitter, Instagram and Snapchat.
VOTERS WITH AUGUST ELECTIONS SHOULD RETURN ABSENTEE BALLOTS IN PERSON, VIA DROP BOX
Michigan voters in the 54 counties with elections on Aug. 3 should now return their absentee ballots in person or via drop box. The location of the local election clerk's offices and area drop boxes, as well as voter information for applicable elections, can be found at Michigan.gov/Vote.
Those who do not yet have a ballot are encouraged to visit their local election clerk's office, where they can be issued one, vote it, and return it to the clerk in the same visit. Those who already have a ballot at home should fill it out, sign the back of the envelope and return it in person or via drop box as soon as possible.
Registered voters can vote early with an absentee ballot at their clerk office now through August 2, or at their polling place on Election Day, August 3. Those who haven't registered can register online through next Monday, July 19, or register and vote in one trip to their clerk office now through 8 p.m. on Election Day, August 3.
For more election information, including the location of the local clerk's office, area drop boxes, and sample ballots, voters can visit Michigan.gov/Vote.