Hello Neighbors,
Navigating this last week has not been easy for Michiganders following the tragedy at Michigan State University. My heart is with the families and loved ones of the three victims of the MSU mass shooting: Arielle Anderson, Brian Fraser, and Alexandria Verner; and my heartfelt prayers are with the five students who were critically injured and face a difficult road ahead.  
As you may know, Senate Democrats have moved swiftly to introduce common-sense gun policies in Michigan – policies which are evidence-based, widely supported by Michiganders, and would certainly save lives. There is more detail in the newsletter below about this package of bills. I believe that the time is now for action on gun safety, which has affected the lives of too many Americans. 
As always, it's my honor to work for you, the people of District 29, and deliver honest, diligent representation in Lansing on the issues that matter most.    
Sincerely,
Winnie Brinks
Senator Majority Leader
29th District
IN THIS ISSUE: 
Legislative Updates 

Protecting Michiganders from Gun Violence 

FY 23-24 Executive Budget Recommendations 

The Crown Act Introduced 

Tax Relief passes Senate

District Events 

The Right Place convenes leaders on local economic development 

Grand Rapids African American Health Institute Meeting 

Glenwood Elementary celebrates Black History Month

  

Helpful Information 
Contact Us  
LEGISLATIVE UPDATES
Protecting Michiganders from Gun Violence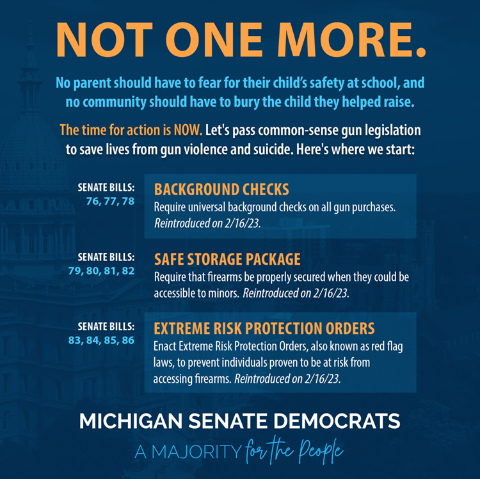 Gun violence is a leading cause of early death in this country, killing tens of thousands a year, and it is the Number One cause of death for American youth. From the mass shooting at Oxford High School in 2021 to the shooting at Michigan State University, there have been 34 mass shootings in Michigan that have injured or killed at least four people. The reality is that the omnipresent danger gun violence poses to our society and our fellow Michiganders is not going to change until we change our policies.
Michigan Democrats have introduced widely embraced common-sense gun legislation that will save lives from being lost to mass shootings, homicides, suicides, and accidents. These proposals have been developed with input from state and national experts, public safety officials, parent advocacy groups and responsible gun owners. Together, these bills will help keep our fellow Michiganders from harming themselves or others, intentionally or accidentally, while also respecting Michigan's hunting, farming, and sporting traditions. 
This common-sense gun legislation has been proven effective at saving lives and is supported by Michiganders across the state:
Universal background checks save lives by ensuring people convicted of violent crimes like domestic violence cannot purchase guns and cause more harm. 

Extreme Risk Protection Order laws, also known as "red flag" laws, will save lives by giving families and law enforcement the tools needed to temporarily remove guns from the hands of people who have threatened to hurt themselves or others. 

Safe storage laws will save lives by ensuring responsible gun owners keep their firearms secure from children and prevent their firearms from falling into the wrong hands and being used to commit a crime. 
Senate Bills 76-86 have been introduced and hearings will be held this week. We are working hard to bring these bills to the Governor for her signature as soon as possible.
Gov. Whitmer's FY 23/24 Budget Recommendations 
On Wednesday, February 8, Gov. Whitmer introduced her executive budget proposal to lower costs, grow our economy, and build a brighter future for Michiganders. The budget proposal includes investments to put money back in people's pockets, help students thrive in school, put more people on paths to higher education and good-paying jobs, improve public health, keep our communities safe, and rebuild our infrastructure—all without raising taxes by a dime. 
Highlights include: 
$614 million increase in per pupil funding, for a $458 per pupil increase (5%), to guarantee at least $9,608 per student. Also includes 5% increases for categories such as at-risk students, special education students and English language learners.
$300 million toward mental health services and $318 million for school safety over two years.
$280 million for water infrastructure projects, including service line replacements, water treatment facility upgrades and stormwater management systems.
$200 million for regional empowerment grants, with additional $100 million for downtown development grants.
$160 million to provide for universal school breakfast and lunch.
$150 million for insulin affordability and manufacturing attraction.
$140 million to temporarily expand Michigan Reconnect from age 25 to age 21.
The Crown Act Introduced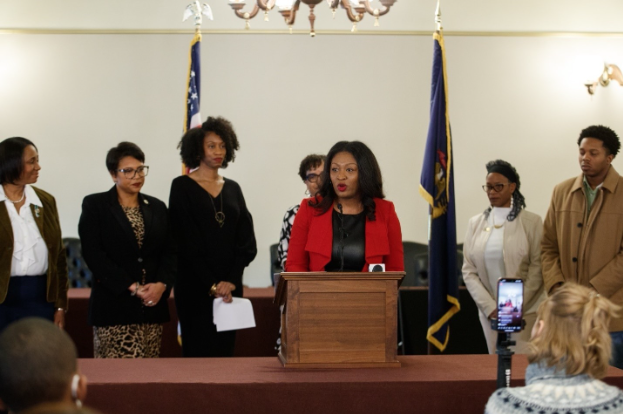 I proudly support Sen. Sarah Anthony's efforts to end hair discrimination in the state of Michigan. On February 21, Sen. Anthony introduced Senate Bill 90—otherwise known as the Michigan CROWN Act. This act would prohibit race-based hair discrimination as well as the denial of employment and educational opportunities due to hair texture or protective hairstyles. It has been referred to the Senate Committee on Civil Rights, Judiciary, and Public Safety, where it awaits further deliberation.
For more information on the Michigan CROWN Act, please click here.  
Tax Relief Passes Senate 
On February 16, the Senate passed the largest tax relief initiative Michigan has seen in decades.  
A key component of the bill aims to expand the Working Families Tax Credit to 30% of the federal Earned Income Tax Credit. 700,000 Michiganders—those who have the hardest time affording the basics—will see an average of $3,150 dollars back in their pockets.  
It also ends the unfair and unpopular tax on retirees that Democrats have been working to reverse since it was put in place more than a decade ago by the previous administration. Lowering MI Costs phases out the retirement tax over four years and ultimately puts an average of $1,000 back in the pockets of 500,000 households. 
The Lowering MI Costs Plan also invests $50 million of surplus tax revenue in the state's Housing and Community Development fund, which prioritizes projects offering veterans, seniors, people with disabilities, and working families safe, affordable places to call home.  
This is significant, sustainable and ongoing dedicated funding to affordable housing. The plan also provides $50 million for Revitalization and Placemaking (RAP) grants to turn underutilized office, commercial, or community space into places for people to enjoy, including affordable housing, parks, outdoor dining spaces, community gathering places, and more. 
This important moment puts real people and their real needs first. Our plan helps seniors who have carefully budgeted for their golden years, and it helps those who are working hard but earning the least. We are very proud to be delivering meaningful relief to folks in our first weeks in the new majority. 
 
DISTRICT EVENTS 
The Right Place Hosts Legislators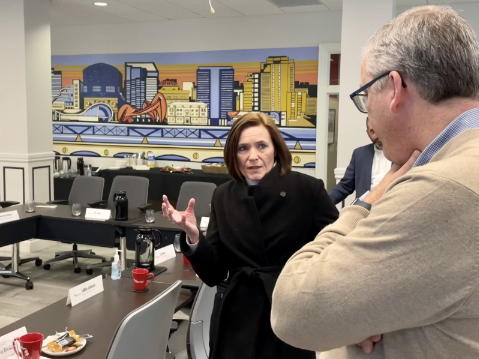 This week I gathered with fellow lawmakers from both sides of the aisle to hear from the staff of The Right Place, whose work centers around economic development in our region of Michigan. We had an important conversation about the future of our state, and the critical issues of job creation, attainable housing, and the growing sectors of our economy that will provide stability and vitality to our region far into the future. It was exciting to hear all the good things happening to grow our local economy and the ways our legislature can continue to invest in our vibrant future.  

Meeting at Grand Rapids African American Health Institute
Recently, I was able to meet with Executive Director Vanessa Greene of the Grand Rapids African American Health Institute in Grand Rapids. We discussed how to best achieve healthcare parity in Grand Rapids and help to address barriers to health and wellness that specifically impact the Black community.
On average, Black women are three times more likely to die from pregnancy-related causes than their other white counterparts. Statistics like these are alarming, and Black maternal mortality as well as other health inequities can be mitigated over time if we all work together.  
I'm proud to have a resource like GRAAHI in West Michigan; the work they're doing is helping to increase health care access, awareness, and education for so many.   
Black History Month at Glenwood Elementary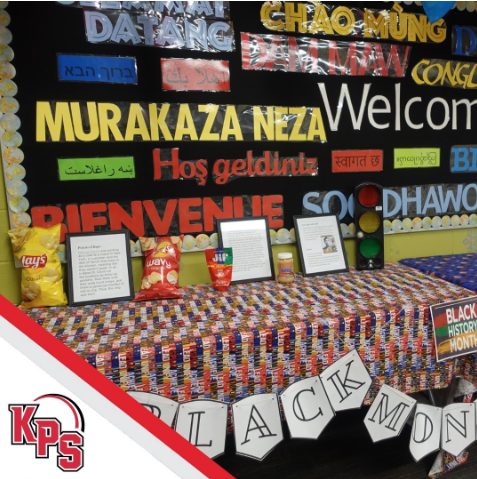 This Black History Month moment from Glenwood Elementary School in Kentwood was shared on the district's Facebook page this month. Students researched inventions, contributions, and Black-owned products and then added their work to a school-wide display.
Thanks, Glenwood students, for sharing your knowledge with your peers and with your whole community. Black History Month gives us an opportunity to focus collectively on increasing our shared knowledge and appreciation of the critical contributions that Black people have made throughout our nation's history. This learning should take place at every age, and the students at Glenwood are leading the way! 

HELPFUL INFORMATION 
AG Nessel: Phishing Scam Notice 
Attorney General Dana Nessel and the Michigan Department of Health and Human Services are reminding Michigan consumers to be aware of phishing text messages that claim their EBT benefit cards are locked. The message includes a phone number to call for help. Responding to these messages may allow scammers to access to the card's funds. 
EBT cards provide government food assistance, known as the Supplemental Nutrition Assistance Program (SNAP) or food stamps. This scam is serious as those who receive benefits rely on these funds to feed their families. 
If you are a SNAP recipient and receive a text message that your EBT card is locked, this is a scam. Do not respond.  
Don't share your EBT PIN with anyone outside your household.  

Check your EBT account regularly for unauthorized charges.  

Change your PIN number occasionally or if you suspect it was compromised. 

Don't click on links in unsolicited text messages. 

Don't respond to suspicious or spam text messages. 
Visit Michigan Attorney General Government Imposter Scams alert to learn more. 
Michigan Achievement Scholarship 
The Michigan Achievement Scholarship application has opened for all high school seniors! This scholarship provides: 
Up to $2,750 if you attend a community college, per year 

Up to $5,500 if you attend a public university, per year 

Up to $4,000 if you attend a private college or university, per year
There is no deadline for this scholarship. Students have 15 months from either their high school graduation or high school equivalency completion to enter college and use the funds they are awarded.  
High school seniors can get started by following these steps:  
Winter Driving Safety Tips 
Winter weather can make driving commutes longer, and more treacherous. So, it is important for you to be safe on the roads.
Taking time to clean the snow off your vehicle and tracking the distance between locations prior to traveling can help eliminate accidents. Also, remember to pack drinking water, extra snacks, scarves, and coats in your car in case of an emergency.  
If you are ever stranded on the road and need roadside assistance, call AAA or 911. Remember to stay a few lengths away when driving behind other cars. Use this simple trick to stay safe while driving in snowy conditions: if you can't see the driver's mirrors or full headlights, the driver likely cannot see you. Now, if there are downed power lines, stay as far away from them as possible.  
For more winter driving safety tips, please click here.  
CONTACT US
The Office of Senate Majority Leader Brinks values all input from Michiganders but prioritizes the constituents of the 29th District. For questions, I encourage you to reach out to your district State Senator. Click here to find who represents you in the Senate.   
Comment on Legislation: You can stay updated on legislative advancements through my biweekly e-newsletters or here. Given the high volume of messages my office receives daily, please note that it may take time for your inquiry to receive a response.  
If You Need Help: If you have a problem dealing with any department of state government, such as accessing unemployment benefits, my office can help you resolve it. While we usually cannot assist with local or federal issues, we will always do our best to help direct you to the appropriate person. 
You can call my office at (517) 373-1801 or send me an email at SenWBrinks@senate.michigan.gov.  
Helpful Links