Senate District 29 Update

March 5, 2021
Hello Neighbors,
This week the Michigan Legislature passed a supplemental budget that will provide additional financial relief related to the COVID-19 pandemic, as well as more funding for vaccine distribution. Highlights included:
$110 million for vaccine distribution.
$1.9 billion in education funding (largely from federal funds allocated to Michigan).
A $2.25/hour wage increase for direct care workers.
Emergency rental assistance for tenants and landlords.
While Republicans still chose to leave billions more in federal relief dollars on the table, this legislation was a vast improvement from an earlier version we considered last week.
This investment in vaccine distribution infrastructure also comes at a crucial time, as the Biden Administration announced the U.S. now expects to have enough vaccines for every adult who wants one by the end of May. We are so close to having the worst part of the COVID-19 pandemic behind us, so please remember to mask up and adhere to social-distancing guidelines.
As always, please continue to look out for your friends and neighbors and be patient with one another. For the latest updates, I'd encourage you to follow me on Facebook and Twitter.
Warm regards,

Winnie Brinks
State Senator
29th District
In This Issue
MICHIGANDERS AGE 50+ TO START RECEIVING COVID VACCINE IN MARCH
On Wednesday, March 3, Gov. Gretchen Whitmer and Michigan Department of Health and Human Services (MDHHS) officials announced that the state is moving forward with the vaccination of Michiganders aged 50 and older with medical conditions or disabilities, and caregiver family members and guardians who care for children with special health care needs. These individuals can begin receiving the COVID-19 vaccine on Monday, March 8.
Beginning Monday, March 22, vaccine eligibility will again expand to include all Michiganders 50 and older.
Those eligible to receive a vaccine should:
Check the website of the local health department or hospital to find out their process or for registration forms; or
Check additional vaccination sites, such as local pharmacies like Meijer, Rite Aid, or Cardinal Health (U.P. residents); or
Residents who don't have access to the internet or who need assistance navigating the vaccine scheduling process can call the COVID-19 Hotline at 888-535-6136 (press 1), Monday through Friday from 8 a.m. to 5 p.m., Saturday and Sunday, 8 a.m. to 1 p.m., or call 2-1-1.
This change follows the announcement by President Joe Biden that ramped-up production will provide enough doses for 300 million Americans by the end May. To date, more than 40% of Michiganders aged 65 and older have been vaccinated.
REVISED MDHHS ORDERS EXPAND ACCESS TO RESTAURANTS, NURSING HOMES AND MORE
This week's new MDHHS orders expand restaurant capacity, increase gathering and capacity limits, and allow for expanded visitation at residential care facilities starting March 5 through April 19. Gov. Gretchen Whitmer announced Tuesday these changes are coming as a result of people doing the right thing — masking up, maintaining social distancing, and washing our hands.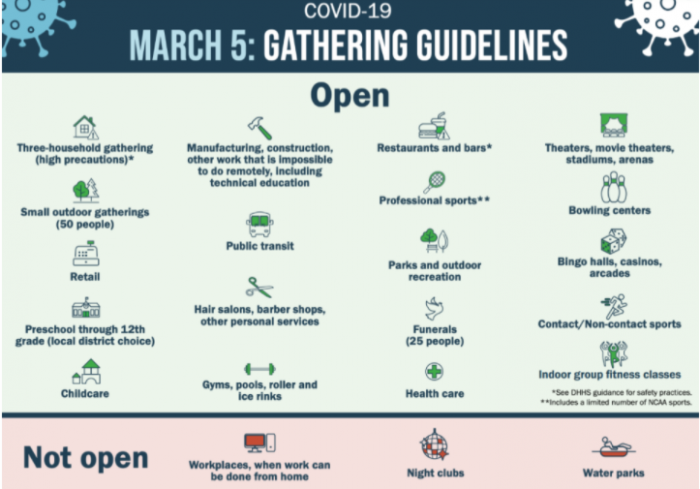 Restaurants, Indoor Gatherings
Changes to the Gatherings and Mask Order are effective Friday, March 5th through Monday, April 19th.
Capacity changes include:
Restaurants and bars can be at 50% capacity, up to 100 people. Tables must be six feet apart with no more than six people per table. There is now an 11 p.m. curfew.
Indoor non-residential gatherings where people interact across households are permitted up to 25 people, allowing public meetings and other small indoor gatherings to resume.
Outdoor non-residential gatherings where people interact across households are permitted up to 300, allowing larger outdoor events to resume.
Indoor entertainment venues can be at 50% capacity, up to 300 people.
Exercise facilities can be at 30% capacity, with restrictions on distancing and mask requirements.
Retail can be at 50% capacity.
Casinos can be at 30% capacity.
Indoor stadiums and arenas are allowed have 375 if seating capacity is under 10,000; 750 if seating capacity is over 10,000.
Outdoor entertainment and recreational facilities may host up to 1,000 patrons.
Indoor residential gatherings are now limited to 15 people from three households, while outdoor residential gatherings can include up to 50 people.
Nursing Homes
With all residents at skilled nursing homes having been offered their first dose of COVID-19 vaccine and a vast majority having had their second dose, the Residential Care Facilities Order goes into effect immediately. The order encourages communal dining and group activities for residents and allows indoor and outdoor visitation in all counties regardless of county risk level.
Visitation is allowed if the facility has not had a new COVID-19 case in the last 14 days and all indoor visitors ages 13 and older are subject to rapid antigen testing. Visitors will be required to wear face masks or other personal protective equipment and maintain six feet from residents.
Information around this outbreak is changing rapidly. The latest information is available at Michigan.gov/Coronavirus and CDC.gov/Coronavirus. To learn more about the COVID-19 vaccine, visit Michigan.gov/COVIDvaccine. 
LEGISLATIVE UPDATE
Recently, Michigan exceeded 100 health or safety violations by employers against employees related to the COVID-19 pandemic. This pandemic has exposed serious shortcomings when it comes to workplace safety laws. We need to have stronger workplace protections in our laws now and into the future to ensure workers can do their job safely, without being exposed to unnecessary risks, and with a strong system of accountability.
My Senate Democratic colleagues and I recently reintroduced legislation to protect workers from unscrupulous employers who may not have their employees' well-being at the forefront of their operations. Senate Bills 161-165 would ensure essential workers could access workers' compensation benefits, that the Michigan Occupational Safety and Health Administration (MIOSHA) creates and enforces guidelines for workplace safety, and more. I sponsored Senate Bill 165, which would require employers to obtain, publicly post, and make readily available to employees, a list of testing sites from their local public health department.
This legislative package was inspired by the Senate Democrats' proposal last year on regenerating Michigan's economy, and reflects our continued commitment to putting workers and workplace safety first. The bills have been referred to the Senate Economic and Small Business Development Committee.
PFAS HEALTH STUDY
The Michigan Department of Health and Human Services (MDHHS) is urging residents in West Michigan communities to sign up for the Michigan PFAS Exposure and Health Study (MiPEHS) to help ensure robust data gathering and to make the study as successful as possible.
MDHHS launched MiPEHS in November 2020 with the goal of learning more about the relationship between PFAS (per- and polyfluoroalkyl substances) and health among residents who have been exposed to various levels of PFAS in their drinking water. Blood samples will be tested for PFAS levels and health markers, including cholesterol. Some participants will also have their blood tested for PCBs — another type of manmade chemical. A survey is used to collect additional information about health and exposure to PFAS.
Participants can receive their blood PFAS results for free and are offered up to $55 on a gift card as a thank you for their time. To allow for the most comprehensive analysis and to track PFAS levels over time, participants will be invited to return to the study offices twice more in the next five years. Additional gift cards will be offered at each visit.
For more information about MiPEHS please visit Michigan.gov/DEHbio. Call 855-322-3037 today to check eligibility and enroll.
COVID-19 VACCINE ACCESS EXPANDED TO INCLUDE MORE FRONTLINE WORKERS
Michigan's food processing and agricultural workers are encouraged to register to receive a COVID-19 vaccination appointment as eligibility expands to Michiganders working in the food and agriculture sector.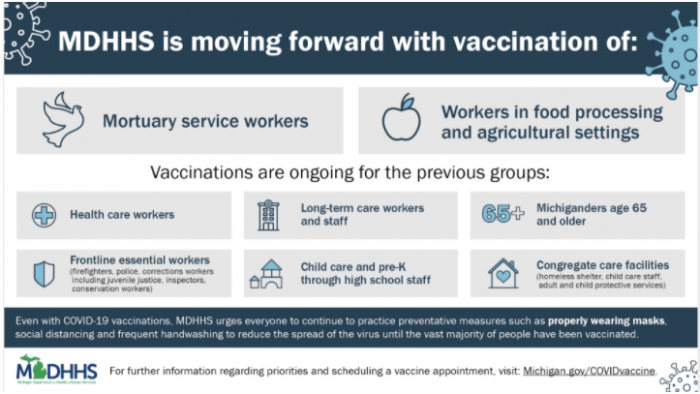 Frontline essential workers who are eligible to receive the safe and effective COVID-19 vaccine as of March 1 now includes:
Food processing workers such as employees at meat processing and meatpacking facilities
Workers who process fruit and vegetables
Dairy processing
Animal feed manufacturing
Food and animal feed ingredient manufacturing
Beverage production
Production of food packaging.
More information can be found here.
IN CASE YOU MISSED IT: COVID-19 VACCINE TOWN HALL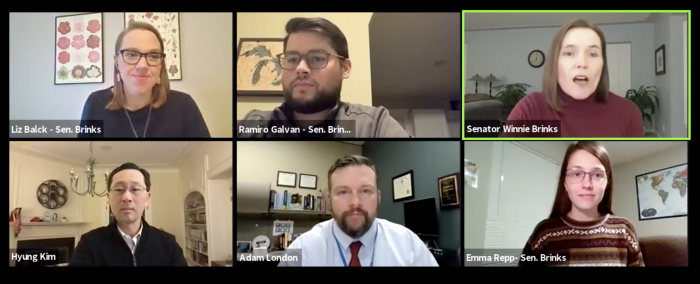 Thank you to all who joined us for our Virtual Town Hall: Update on Covid-19 this past Monday. Panelists included Dr. Adam London of the Kent County Health Department and Dr. Hyung Kim, president of Mercy Health Saint Mary's. We had a great discussion on the COVID-19 vaccine rollout here in Grand Rapids. If you were not able to join, a recording is available for you to watch here.
NEW GRANT PROGRAM PROVIDES $2.5 MILLION FOR SPECIFIC PROGRAM TEACHERS
On Monday, March 1, Gov. Gretchen Whitmer and State Treasurer Rachael Eubanks announced the expansion of the MI Classroom Heroes COVID-19 Grants to include a new grant program for Great Start Readiness Program (GRSP), Head Start, adult education, and young adult (ages 18-26) special education classroom teachers.
The program enables these specific program teachers to receive up to $500 for extra hours worked and costs incurred during the beginning of the COVID-19 pandemic last spring.
Eligible teachers should consult the school entity where they worked during the 2019-2020 school year to ensure they receive a grant. Grant funding checks for these specific programs are anticipated to be sent directly from the state Treasury Department to teachers in June.
For more information about MI Classroom Heroes COVID-19 Grants, visit Michigan.gov/MIClassroomHeroes.
NEW SOS ONLINE, SELF-SERVICE OPTIONS COMING SOON
The Department of State will enable new online services for customers and expand the capability of self-service stations to include driver's license and state ID transactions next month.
The new customer conveniences will be available when a massive upgrade of the department's driver records system is launched on March 16, following two years of preparation. Branch appointments, online and self-service station transactions will be unavailable from 5 p.m. Thursday, March 11 to 9 a.m. Tuesday, March 16 while the system is brought online.
In addition to the many services already offered online, new online services at www.Michigan.gov/SOS will be available. More information on the new online services can be found here.
UPCOMING VIRTUAL COFFEE HOUR
I hope you can join me for my next Virtual Coffee Hour on Friday, March 19, from noon to 1 p.m., on Zoom. This is a great opportunity to discuss important issues in our district from the comfort and safety of your own home.
To register, please email my office at SenWBrinks@senate.michigan.gov and be sure to put "Virtual Coffee Hour" in the subject line. We will send you the link to the meeting before the start of the event.
I look forward to chatting with you and hope to see you online!
I have other questions. Are you and your office still available?
To keep you and my staff healthy and safe, we are working remotely until further notice. Please call our office at (517) 373-1801 or send me an email at SenWBrinks@senate.michigan.gov, as you normally would, and we will do our best to avoid any interruption of service.
I am still working diligently and engaging with folks in our community, but all in-person events have been canceled for the time being. You can follow me on Facebook or check my website at SenatorBrinks.com for more information on any future events.
HELPFUL LINKS