Senate District 29 Update

Hello Neighbors,
I spent Veterans Day at the wreath-laying ceremony at the new Michigan Veteran Homes at Grand Rapids. This was a beautiful and solemn occasion where I had the opportunity to show my appreciation and respect for those who have stepped up for our country in uniform.
This year has been especially hard for some of our veterans, as we observed the end of the decades-long engagement in Afghanistan. My thoughts go out to all our Michigan veterans and their families, and I want to make it clear to those of you who may be struggling, that my team and I are here for you, and we are available to help in any way we can.
As always, please continue to look out for your friends and neighbors and be patient with one another. For the latest updates, I'd encourage you to follow me on Facebook.
Warm regards, 

Winnie Brinks
State Senator
29th District
In This Issue
Governor Whitmer Signs "Tampon Tax" Repeal into Law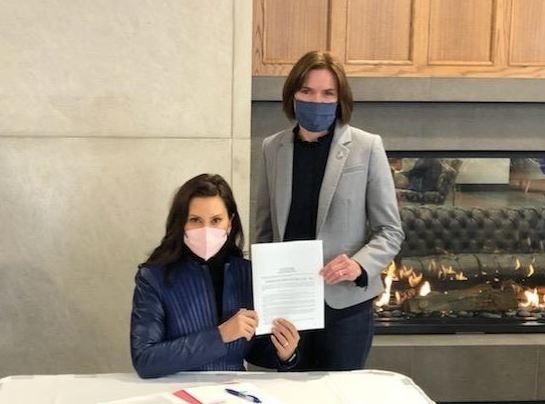 Taxing someone just because they get a period is unacceptable. Which is why eliminating the "Tampon Tax" is an issue I've been working toward since I was a member of the House of Representatives, and last week we did it!
Last Friday, Governor Gretchen Whitmer signed my bill eliminating the 6% sales and use tax on feminine hygiene products. It was about time we ended this unfair tax burden, and with this new law, Michigan moves toward a fairer tax structure.
Michigan Launches Child Care Stabilization Grant
Childcare providers are the backbone of our economy. Working families have been faced with a major crisis during this pandemic, which has made the existing long-term childcare crisis, even more complicated. That's why we're celebrating the recent launch of the Child Care Stabilization Grant that will distribute $350 million in grants to give every full-time childcare professional a $1,000 bonus and keep childcare programs open and serving kids.
Licensed childcare providers are eligible to apply and should visit Michigan.gov/childcare to review frequently asked questions and apply. These funds can be used to cover personnel costs, rent or mortgage, insurance, facility improvements, supplies related to COVID-19, and more.
COVID-19 Vaccine Town Halls
On Saturday, Nov. 18 at noon, the State of Michigan will host a virtual town hall about the COVID-19 vaccine through Facebook Live on the MDHHS Facebook page. Residents will have the opportunity to hear about the safety, efficacy, and importance of the COVID-19 vaccine.
Any questions that cannot be answered during the town hall due to time constraints will be reviewed and added to the State of Michigan COVID-19 vaccine frequently asked questions webpage available at Michigan.gov/coronavirus.
More information on the town hall, as well as links to previous town halls, can be found here.
Volunteers Needed for Kent County Income Tax Assistance
Through Volunteer Income Tax Assistance (VITA) sites throughout our community, the Kent County Tax Credit Coalition (KCTCC) helps working individuals and families achieve economic success through free tax services. This couldn't happen without volunteers.
Volunteers can serve as Intake Specialists, Tax Preparers, or Quality Reviewers (for returning volunteers only) and are asked to commit to:
Training and completion of certification tests (2–12 hours, depending upon volunteer experience and role).
A minimum of four hours per week from February through early April.
While they encourage volunteers to train in-person, they also offer online training. Join their team of more than 200 volunteers that completed more than 6,000 federal, state, and local returns last year refunding $5 million into the hands of those that need it most to pay overdue bills, make car repairs, save for the future, and bolster the local economy.
Visit hwmuw.org/kctcc for more information.
Virtual Baby Fair
Are you a new or expecting parent? Join the Michigan Department of Health and Human Services for a virtual baby fair to learn how to be better prepared for your best adventure yet! Learn about resources available to you, important information, and ask questions to experts.
Here are the dates and times of upcoming virtual baby fairs:
Monday, Dec. 6 from 6:30 to 8:30 p.m.
Wednesday, Dec. 8 from 9 to 11 a.m.
Wednesday, Dec. 8 from 6:30 to 8:30 p.m.
Click here to register online through the MDHHS website for these events.
Secretary of State Offices Now Offering Evening Hours on Wednesdays
As of Nov. 3, Secretary of State offices are now open until 7 p.m. on Wednesdays to provide services to residents who cannot visit offices during traditional business hours.
Visits during Wednesday evening hours are now available for booking at Michigan.gov/SOS. Wednesday hours will now be 11 a.m. to 7 p.m. (10 a.m. to 6 p.m. Central Time).
The department releases thousands of office visits twice per day, every business day for residents to book online at Michigan.gov/SOS or by calling 888-SOS-MICH. Residents can also walk up to any office and they will be served immediately if there is availability or assisted with scheduling a return visit at a time convenient for them.
Upcoming Virtual Coffee Hour
I hope you can join me for a Virtual Coffee Hour Friday, Nov. 19, from 9 to 10 a.m. on Zoom. This is a great opportunity to discuss important issues in our district from the comfort and safety of your own home.
Please click here to register and feel free to include any questions you may have for me. I'll do my best to address everyone's question during the coffee hour, and we'll send you the link to the meeting before the start of the event.
I look forward to chatting with you and hope to see you online!
Until then, here are a few other reasons to contact my office:
Comment on Legislation: If you want to express your opinion about legislation or learn more, my office can answer your questions and keep me informed of your comments. Your opinion matters!
If You Need Help: If you have a problem dealing with any department of state government, such as accessing unemployment benefits, my office can help you resolve it. While we usually cannot assist with local or federal issues, we will always do our best to help direct you to the appropriate person.
There's No "Wrong" Reason: Any comment, question or concern is welcome. If your issue would be more appropriately addressed by a different unit of government, I will help direct you. Remember, I am here to serve YOU and your family.
Contact Us
I have other questions. Are you and your office still available?
To keep you and my staff healthy and safe, we are working remotely until further notice. Please call our office at (517) 373-1801 or send me an email at SenWBrinks@senate.michigan.gov, as you normally would, and we will do our best to avoid any interruption of service.
Helpful Links