Senate District 29 Update

January 7, 2022
Hello Neighbors,
Happy New Year from my family to yours!
In Michigan, the options for outdoor recreation are endless no matter where you may live and perhaps you've made a resolution to get outside more this year. Whether it's snowshoeing or ice skating, or maybe even ice fishing, there's an activity for everyone! That's why I am happy to announce that Grand Rapids will kick off outdoor winter activities beginning tomorrow, January 8th.
The city will have free sled rentals at two parks with sledding hills, as well as groomed trails for snowshoeing, cross country skiing and fat tire biking at Indian Trails Golf Course. Bundling up and getting outside to take advantage of these activities is a safe alternative as we continue to deal with the spread of this latest COVID-19 strain, and a good way to enjoy our natural resources, even during the winter.
Please remain conscious of your personal health as the Omicron variant of COVID-19 spreads through our community. The virus can affect individuals differently, so if you or someone in your family begins experiencing any symptoms related to COVID-19, please isolate yourself according to CDC guidelines and seek out a COVID-19 testing site near you to confirm your health status. Getting tested and following the proper procedures after receiving your results is the best way to protect your family, friends, and community from the continued spread of COVID. 
As always, please continue to look out for your friends and neighbors and be patient with one another. For the latest updates, I'd encourage you to follow me on Facebook.
Warm regards,

Winnie Brinks
State Senator
29th District
In This Issue
Michigan Redistricting Update
The Michigan redistricting commission voted on and approved the new maps for Michigan's legislative districts. For the state Senate, the commission voted for its "Linden" map, with nine commissioners backing the new map. Two Republicans, two Democrats and five independent commissioners voted in favor of the plan.
Understanding what redistricting means for you when voting is one of the first steps in engaging with our democracy. Please feel free to learn more about the "Linden" map and what comments were made about it as we continue to work through this process.
Legislature Passes COVID Relief, Economic Incentive Bills
In late December, the Michigan Legislature passed two spending bills that Michigan needs to keep moving forward through the COVID-19 pandemic and invest in Michigan's future.
House Bill 4398 is an $841 million spending bill that allocates a portion of federal COVID relief funds toward where Michigan still needs them most, including:
$150 million for school COVID testing to keep kids safely learning in person $140 million for emergency rental assistance
$19.6 million for mental health services
$10 million for teacher recruitment and retainment
This is a great start to getting our federal relief dollars out the door and into communities, but we still have more work to do. I'm committed to working with my colleagues in the Legislature to ensure we allocate all remaining federal dollars.
We also passed Senate Bill 85, a $1.5 billion economic development plan that creates the Strategic Outreach and Attraction Reserve (SOAR) Fund within the Department Labor and Economic Opportunity. The fund incentivizes economic investment in Michigan, attracting and retaining good-paying jobs that create clean energy and keep Michigan at the forefront of America's manufacturing industry for generations to come.
Both pieces of legislation mark a significant investment in Michigan's future, and I am proud to have collaborated with Governor Whitmer and my colleagues in the Legislature to pass these monumental bills. I'm excited to see how these investments take shape across Michigan and directly impact Michigan families.
Governor Whitmer Announces Art Contest for State of The State Program
On Monday, Jan. 3, Gov. Gretchen Whitmer announced an art contest for the 2022 State of the State program cover. The governor is challenging Michigan's K-12 students to come up with a creative design for the 2022 State of the State program cover following the theme "Why do you believe in Michigan?".
During her State of the State address, Governor Whitmer will share her vision for Michigan and plan to address key issues to put Michigan first, including jobs, education, infrastructure, and Michigan's strong economic progress.
Students should be as creative as possible and are welcome to use crayons, markers, paint, or any other materials. To submit your design, please click here and follow the instructions on the webpage. Submissions will be accepted exclusively through the online system and must be received no later than 11:59 PM on Sunday, Jan. 16.
The student artist of the winning design will receive a prize.
New West Michigan Behavioral Health Crisis Center
Someone going through a mental health crisis in West Michigan will be able to access services anytime at a new Behavioral Health Crisis Center (BHCC) being created by Mercy Health Saint Mary's and Network180.
Mental healthcare is an incredibly needed resource for West Michigan, and the partnership of Mercy Health and Network 180 is an innovative model that makes that kind of care more effective, less expensive, and easier to access. It shows us the power of targeted public-private partnerships and comes at a time when mental health needs are so significant, and when services can be so hard to access.
I helped to shepherd the bills through the legislature that made this possible, because I've seen what happens when a mental health crisis leads to the Emergency Room or to an interaction with law enforcement. Because of this innovative partnership, it can now lead to effective, accessible care.
More information on this exciting partnership can be found here.
Visiting Treetops Collective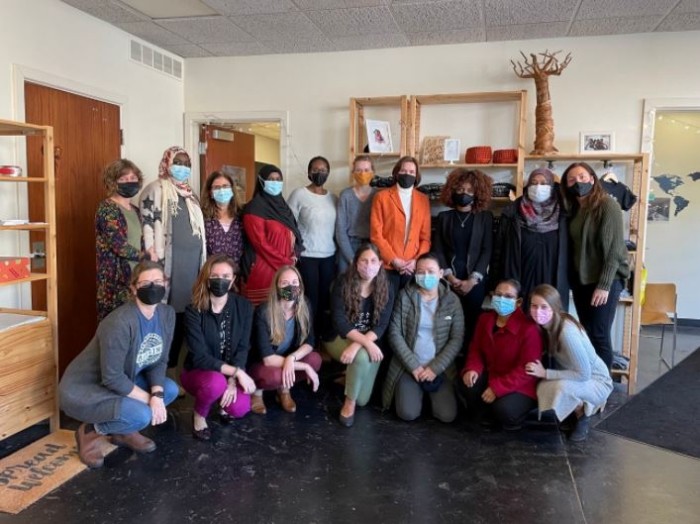 In December, I had the opportunity to meet with the women of Treetops Collective, who are making their vision of belonging and community into a reality in their space on Division Street. I am proud to represent resilient, hardworking women of all backgrounds who call the 29th District home.
Contact Us
We are currently reassessing our in-person and virtual coffee hours and plan to make a decision soon regarding our Coffee Hour scheduled for Friday, January 21. Please check my Facebook page for updates.
Until then, here are a few reasons to contact my office:
Comment on Legislation: If you want to express your opinion about legislation or learn more, my office can answer your questions and keep me informed of your comments. Your opinion matters!
If You Need Help: If you have a problem dealing with any department of state government, such as accessing unemployment benefits, my office can help you resolve it. While we usually cannot assist with local or federal issues, we will always do our best to help direct you to the appropriate person.
There's No "Wrong" Reason: Any comment, question or concern is welcome. If a different unit of government would more appropriately address your issue, I will help direct you. Remember, I am here to serve YOU and your family.
I have other questions. Are you and your office still available?
To keep you and my staff healthy and safe, we are working remotely until further notice. Please call our office at (517) 373-1801 or send me an email at SenWBrinks@senate.michigan.gov, as you normally would, and we will do our best to avoid any interruption of service.
Helpful Links