Senate District 29 Update

Hello Neighbors,
The tragedy of Patrick Lyoya's death is weighing heavily on our whole community. I have spoken to so many of you and witnessed your expressions of grief, fear, anger, and your demands for change.
This week, I took your passion to my colleagues, directly, in a floor speech about our community and our needs. You can read more about that and watch my speech below.
Every day, I am grateful and humbled that I get to represent you as your State Senator, and I do my best to ensure your voice is heard in Lansing. As always, please continue to look out for your friends and neighbors and be patient with one another. For the latest updates, I'd encourage you to follow me on Facebook.
Warm regards,

Winnie Brinks
State Senator
29th District
In This Issue
Patrick Lyoya and the Future of Grand Rapids
GLSEN Day of Silence
Special Enrollment Period for Health Insurance
Legislative Updates
In the Community
Be Prepared: COVID Cases Expected to Rise
TOMORROW: Drinks with Brinks
Contact Us
PATRICK LYOYA AND THE FUTURE OF GRAND RAPIDS
After weeks of listening to our community and getting feedback about how we move forward from the tragic shooting of Patrick Lyoya, I took to the Senate floor this week to demand a call to action of my fellow legislators, and particularly my colleagues in the Republican majority.
Last year, a package of bipartisan bills was released that aimed to address needed reforms in policing. It went nowhere because of partisan power. This is not acceptable. I am working hard to meet the deep grief of the Grand Rapids community with the power that the legislature affords so we move beyond paying lip service to these issues.
We need change. Watch my speech below: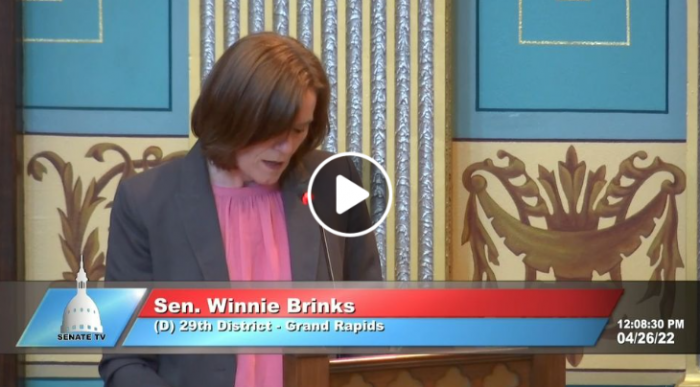 GLSEN DAY OF SILENCE
Last Friday, the Gay, Lesbian, Straight Education Network organized its GLSEN Day of Silence — a national, student-led vow of silence to protest the detrimental impacts of harassment and discrimination of LGBTQ+ individuals in schools.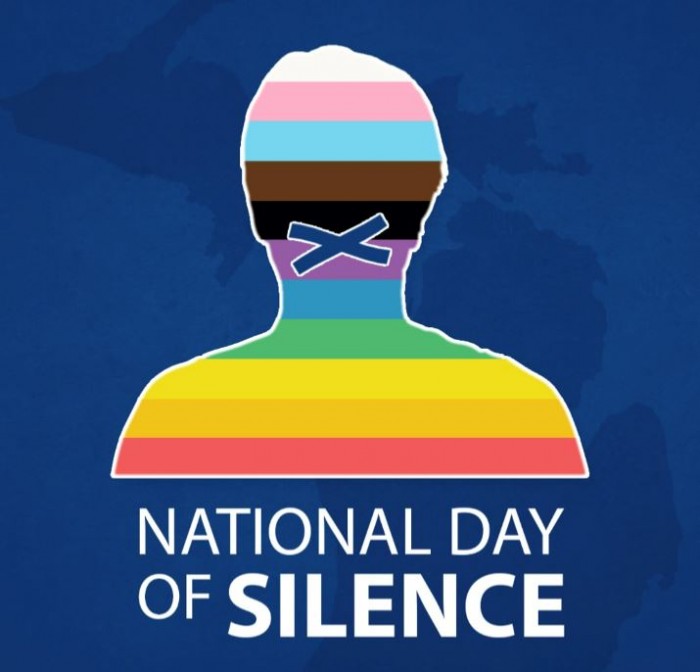 More than 4 in 5 LGBTQ+ students are not exposed to positive LGBTQ+ representation in their curriculum. Nearly 9 in 10 experience harassment or assault. Almost a third miss school because they feel uncomfortable or unsafe.
In a cultural moment when LGBTQ+ individuals are again being targeted by powerful politicians, I am committed to stand against such hate. I will work to continue to protect and uplift the LGBTQ+ community.
SPECIAL ENROLLMENT PERIOD FOR HEALTH INSURANCE
You may be eligible for free or low-cost health insurance thanks to a Special Enrollment Period (SEP) that went into effect last month. This could give you the chance to enroll in Marketplace health coverage even if you don't meet one of the traditional SEP qualifications. Click here to learn more. You can also access local enrollment help to take advantage of this new opportunity at LocalHelp.HealthCare.gov, or contact DIFS at 877-999-6442 for information about getting started.
For families: 5 million Americans are affected by what's being called the "family glitch." Under the Affordable Care Act, individuals who don't have access to "affordable" health insurance through their jobs may qualify for a tax credit to purchase a health plan on the Marketplace. But obtaining employer-sponsored coverage for the whole family can be very expensive, potentially putting health insurance out of reach. A new rule at the federal level aims to change that. If adopted, it would help Michigan families access affordable, high quality health care coverage. Click here for more information on this important rule change.
LEGISLATIVE UPDATES
Prescription Drug Affordability
Medication needs to be affordable and accessible if it's going to help people. I'm working hard to make that happen.
As I've previously discussed in these updates, I'm leading the charge to create a Prescription Drug Affordability Board here in Michigan, which seeks to lower the cost of prescription drugs for consumers.
While I'll continue updating you all on my Facebook page about this matter, here is one video for your consideration in the meantime: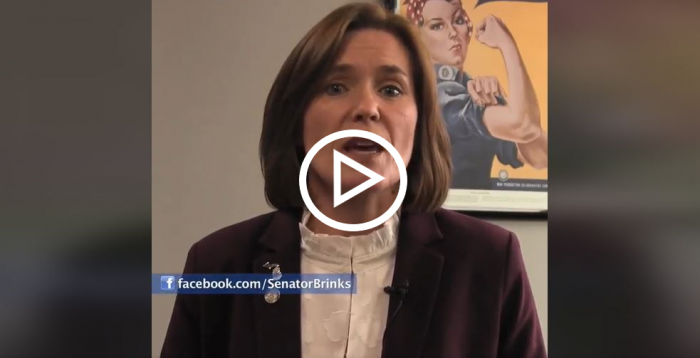 Building Michigan Together with Better Housing Policy
Doing nothing to solve the barriers that are keeping families from safe and affordable housing is not an option.
There are many pieces to the current housing puzzle we face. I've introduced a bill to create a pathway to expunge certain eviction records because it is one important piece of that puzzle. This informative column by the Michigan League for Public Policy has identified several other priorities that will get us closer to safe and attainable housing for all.

April is Minority Health Month
African Americans are disproportionately impacted by most health conditions, and for that, we recognize April as Minority Health Month in Michigan.
The Grand Rapids African American Health Institute is a leading national organization — and an amazing local resource — devoted to achieving health care parity for African Americans. Their GRAAHI Health Equity Index is a tool that can be used to learn more about the health of our community, too.
Last year, I worked hard to ensure that state appropriations dollars would go to GRAAHI, helping them do important education and advocacy work toward these critical goals.
IN THE COMMUNITY
Congratulations to Fat Boy Burgers on 70 Years!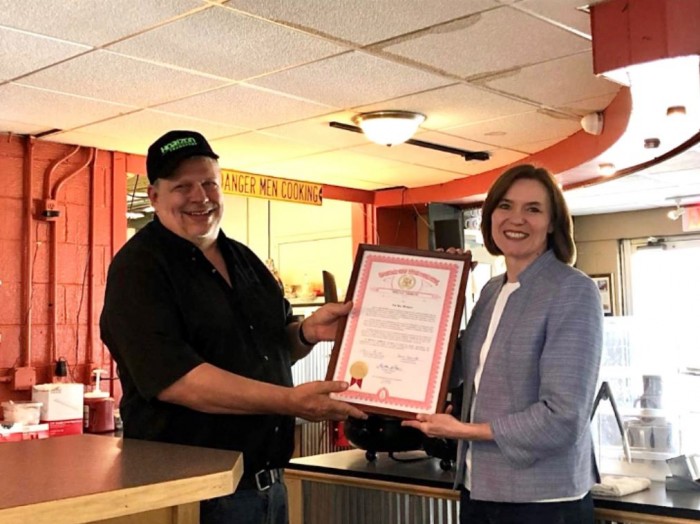 This past Saturday, I had the opportunity to talk with constituents at an in-person coffee hour for the first time in a long time, which I've missed dearly. There is something special about the way an in-person interaction adds depth and builds communication. I happily chose one of my favorite locations for this big moment: Fat Boy Burgers.
Owner Matt Urbane has been willing to host many of these events for our district, and I'm grateful for his commitment to offering his neighborhood a space where we can gather for fellowship, great food, and community-building. Fat Boy Burgers has been doing this for 70 years, and so I delivered a tribute to congratulate Matt on this milestone.
Congratulations to the LEADeres!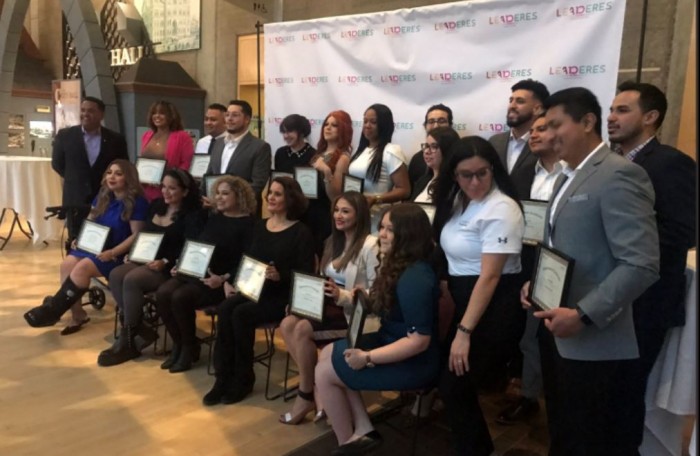 to the latest class of LEADeres!
LEADeres is a Latino-centric leadership and professional development program at Ferris State University. Its participants get to network, gain hands-on skills in leadership, use their voices and experiences in civic engagement, and use Human-Centered Design to help solve issues in our community.
Attending their graduation was a joy, and I'm excited to see their leadership impact Grand Rapids for the better.
BE PREPARED: COVID CASES EXPECTED TO RISE
The Michigan Department of Health and Human Services (MDHHS) is reminding Michiganders to participate in best practices to reduce risks of COVID-19 and prevent spread at spring gatherings including proms, graduations, and other events, and to make sure they are up to date on vaccines.
The BA.2 subvariant of Omicron is expected to continue causing a rise in COVID-19 cases in the upcoming weeks. Michigan's residents are encouraged to be aware of the increased transmission as they go about their daily lives and make personal decisions on masking and other strategies to protect themselves from COVID-19.
In addition to testing before and after travel, MDHHS encourages residents to test ahead of group celebrations and gatherings, especially when events may include family and friends who have increased vulnerability to COVID-19 infection.
Free, over-the-counter tests remain available to households through the federal government, MI Backpack Home Testing, many Michigan libraries and Rockefeller programs. Continued testing supports early identification of cases in Michigan's communities and helps limit the spread of the virus. If you test positive for COVID-19, isolate immediately, avoid travel and gatherings, and seek medical care if needed.
For more information on COVID-19, visit Michigan.gov/Coronavirus.
TOMORROW: DRINKS WITH BRINKS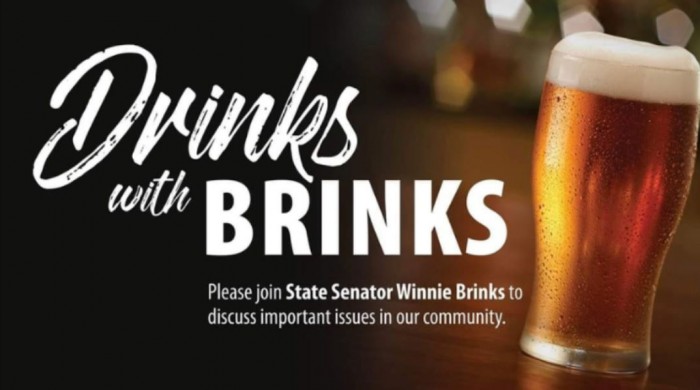 Please join me TOMORROW, Friday, April 29, from 5-7 PM at Harmony Brewing in Eastown to discuss your views on important issues, connect you with resources the state might offer, or to simply learn what matters to you as a constituent. I am here to serve you as your representative in Lansing, and hearing from you is the best way to ensure I can do that well.
Registration isn't required, but it does help us plan. RSVP on my website and bring a friend!
CONTACT US
Here are a few reasons to contact my office:
Comment on Legislation: If you want to express your opinion about legislation or learn more, my office can answer your questions and keep me informed of your comments. Your opinion matters!
If You Need Help: If you have a problem dealing with any department of state government, such as accessing unemployment benefits, my office can help you resolve it. While we usually cannot assist with local or federal issues, we will always do our best to help direct you to the appropriate person.
There's No "Wrong" Reason: Any comment, question or concern is welcome. If your issue would be more appropriately addressed by a different unit of government, I will help direct you. Remember, I am here to serve YOU and your family.
I have other questions. Are you and your office still available?
To keep you and my staff healthy and safe, we are working remotely until further notice.
Please call our office at (517) 373-1801 or send me an email at SenWBrinks@senate.michigan.gov, as you normally would, and we will do our best to avoid any interruption of service.
Helpful Links