Senate District 29 Update

Hello Neighbors,
The U.S. Supreme Court appears poised to end the constitutional right to abortion. This outcome is as dangerous as it is unprecedented, and it will open the floodgates for states across the country to ban abortion. Here in Michigan, the overturning of Roe v. Wade would allow for a 1931 abortion ban to take effect, leaving 2.2 million Michiganders without abortion access.
Make no mistake: I will fight to protect your dignity and autonomy. We will not stand by and allow this dangerous decision to rob us of our rights.
I will also continue to continue to advocate for ways we can improve postpartum care for new parents and healthy starts for their babies. In this newsletter, you'll read about how I'm working to ensure better health outcomes and more equity for people who become pregnant and more support for the health and wellness of babies.
Warm regards, 

Winnie Brinks
State Senator
29th District
In This Issue
LEGISLATIVE UPDATE
Extending Postpartum Medicaid Coverage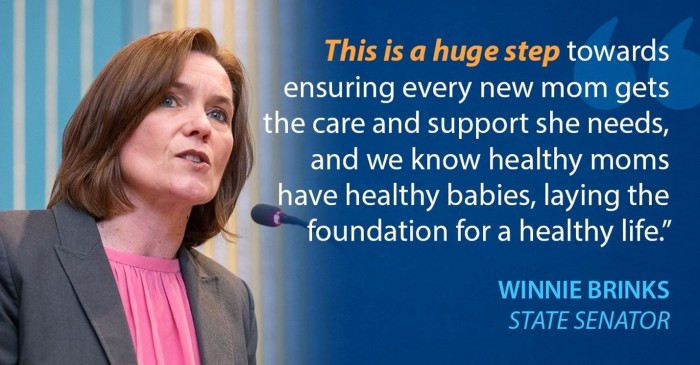 I have long advocated for an extension to Pregnancy-Related Medicaid coverage, which has historically ended after only two months. That is not enough time to adequately support a person who has just given birth. I am so pleased that, thanks to the swift work of Governor Gretchen Whitmer who prioritized this change, we can now offer Pregnancy-Related Medicaid coverage for a full year. This important change will save lives.
You can read more about how Michigan's approval by the Centers for Medicare and Medicaid Services to expand Maternal Medicaid coverage from two to 12 months will make an impact for our community here.

Important Budget Amendments
Last week, the Senate passed 17 budget bills that target key state priorities. Many amendments were proposed by Democrats to improve them, but most failed, largely along party lines.
I offered an amendment to reinstate funding for expanding Centering Pregnancy Programs, which are proven to reduce postpartum depression, hospitalizations, rates of premature birth and have shown to increase breastfeeding. Unfortunately, the Republican Majority chose not to adopt it.
I also offered an amendment to create a program for teacher recruitment and retention programs in Michigan. It would support the challenging and essential work teachers do and allow for innovative approaches to retain and recruit teachers. This amendment also failed along party lines.
I was, however, successful in getting an amendment adopted to provide $2.5 million for Tri-Share Child Care, an innovate program here in Michigan where the cost of childcare is shared equally by an eligible employee, their employer, and the State of Michigan, with coordination being provided regionally by a facilitator hub.
This was only the first phase of budget negotiations, and I am committed to continuing to fight for the support our district and its residents need.
DISTRICT NEWS
Congratulations to City High, #1 in Michigan
Congratulations to the hardworking students and dedicated staff and administrators at GRPS's City High School — named the #1 high school in Michigan and the #18 in the entire nation. This is a prestigious ranking and an accomplishment to be very proud of. City High was one of the most diverse schools on the list with 50% of its students coming from minority backgrounds.

African Immigrant Community Addresses Leaders at Community Meeting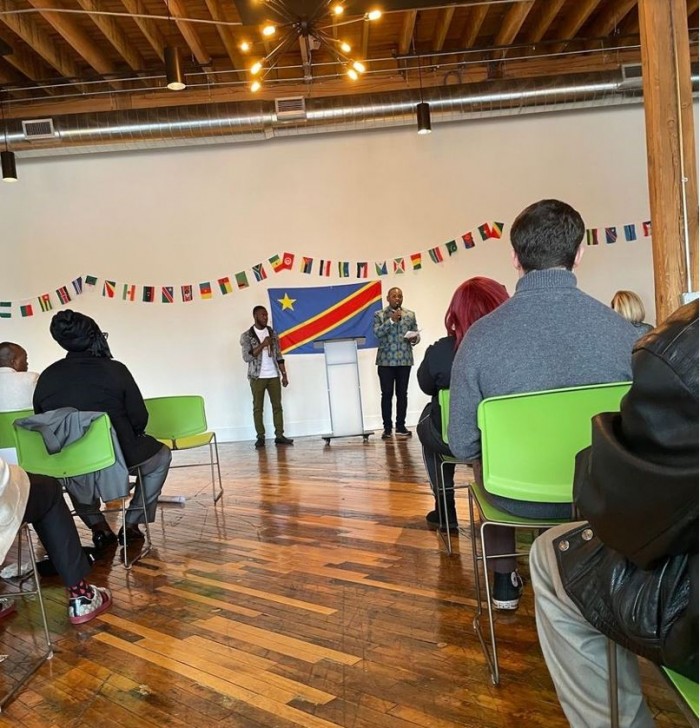 I joined the family of Patrick Lyoya and members of the African refugee community last week at an event at the Center for Community Transformation. The meeting lasted four hours, giving an opportunity for many to share their firsthand experiences, expressions of grief, and calls for change.
I am grateful for the tireless efforts of leaders like Fridah Kanini from A Glimpse of Africa who ensures that voices which have been marginalized are given an opportunity to speak. In the wake of Patrick's death, it is clear: We can, and must, do better.
I am committed to using my position in state government to advocate for transparency and accountability so that justice is done for Patrick.

Missing and Murdered Indigenous Persons Day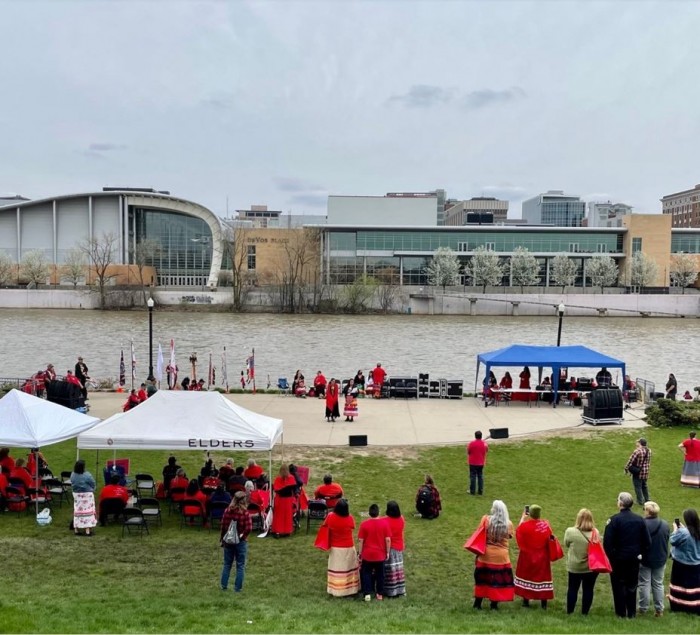 Governor Whitmer declared May 5 as Missing and Murdered Indigenous Persons Awareness Day (MMIP), which recognizes these specific communities that are impacted by acts of violence and impunity.
Locally, at Ah-Nab-Awen Park, members of Indigenous communities from around the state gathered to tell these stories which have become all-too-common. As one speaker put it, "We all know someone personally who MMIP has affected."
Indigenous women and girls are murdered at a rate of 10 times the national average.
In 1978, the U.S. Supreme Court stripped tribal nations of the ability to charge non-Native people with crimes. Currently, 4 out of 5 Native American women have experienced violence in their life, and 90% report being victimized by a non-Native perpetrator.
DRINKING WATER WEEK
Last week, the Michigan Department of Environment, Great Lakes, and Energy (EGLE) recognized Drinking Water Week in Michigan by educating the public on their drinking water and providing tips that residents can use to ensure they have quality tap water.
Water is a human right. Every Michigander should be equipped with knowledge that helps keep their drinking water healthy.
Depending on your water supply, your local health department or water supplier is likely your best resource for answering questions about your water. Residents can also report drinking water concerns online using EGLE's Drinking Water Concern System.
This video also shares tips to reduce your risk of exposure to lead in drinking water, which is a particular concern in homes with older plumbing or those served by lead service lines.
More than one million private wells in Michigan also provide drinking water to more than 2.6 million people statewide. Resources about well maintenance and testing can be found on the Michigan Department of Health and Human Service's website, Care for MiWell.
The Michigan Legislature this year approved a major supplemental appropriation that includes more than $1.8 billion in funding to EGLE for clean water and drinking water infrastructure projects.
For more information about Drinking Water Week, visit the state's website about it.
NEW TOOL AVAILABLE TO HELP LOCATE COVID TREATMENTS
The Michigan Department of Health and Human Services (MDHHS) has announced a new tool for Michigan residents and health care providers to help locate COVID-19 treatments across the state. Users may search to find sites and locations that have therapeutic options available including monoclonal antibodies, oral antivirals, and Evusheld, a preventative treatment for those who are moderately to severely immunocompromised.
All individuals who test positive for COVID-19 should talk to their doctor to see if they are eligible to receive one of the COVID therapeutics. Don't delay, as treatment must be started early to work.
For more information on therapeutics, visit Michigan.gov/Coronavirus/Resources.
EAT SAFE FISH GUIDES FOR 2022
The Michigan Department of Health and Human Services (MDHHS) has released the 2022 regional Eat Safe Fish Guides. These guides can help Michiganders plan their fish consumption to minimize exposure to chemicals that can build up in fish, while still getting all the health benefits of eating fish. The chemicals most found in fish are mercury and PCBs. However, PFAS, including PFOS, have also been found in fish from certain bodies of water in Michigan.
Fish from some areas in Michigan are more contaminated than others. The Eat Safe Fish Guides can give you confidence that you have the best information to inform your choices. Visit Michigan.gov/EatSafeFish and click on Find Your Area or call 800-648-6942.
PREPARE FOR FUTURE EDUCATION COSTS
If you are facing college in the future for children or grandchildren, now is a great time to explore all the options the State of Michigan offers to help families save and prepare for education costs.
The State of Michigan offers several plans to help save for the cost of education. Michigan offers two direct-sold Section 529 savings plans, the Michigan Education Trust (MET), and the Michigan Education Savings Program (MESP):
MET allows for the pre-purchase of tuition based on today's price and then paid out at the future cost when the child is ready to attend college and can be used for tuition and mandatory fees. To learn more, please visit SETwithMET.com.
MESP is an investment-based savings plan, like a 401(k), that offers 22 different investment options and can be used for tuition, fees, books, and room and board. To learn more about MESP, please visit MIsaves.com.
ENSURING ADEQUATE COVERAGE IN THE EVENT OF AN AUTO ACCIDENT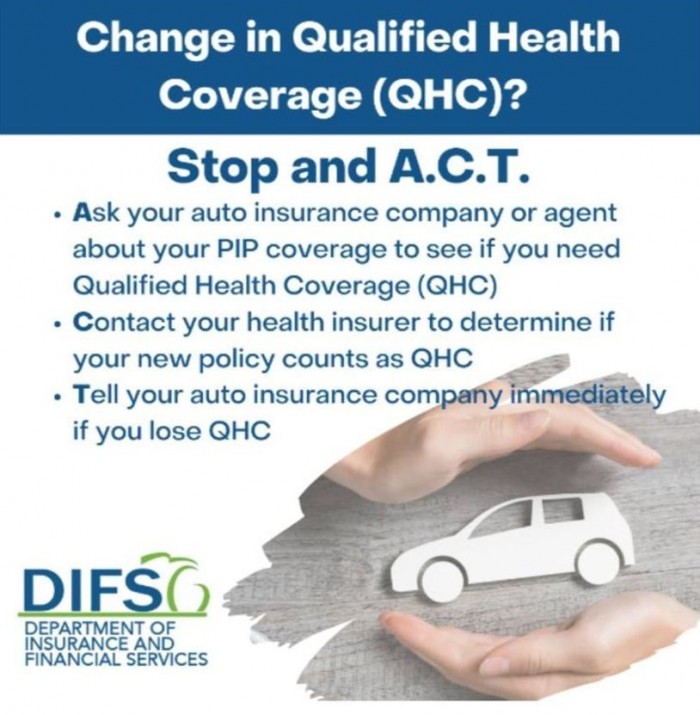 Changes to Michigan's auto insurance laws may impact you! If you chose to exclude Personal Injury Protection (PIP) medical coverage from your auto insurance policy, and if you lose your Qualified Health Coverage, you are at risk of not having medical coverage in the event of a crash.
If you do not have Personal Injury Protection medical coverage and experience a change in health insurance, it's time to A.C.T.! Visit Michigan.gov/AutoInsurance to learn more today.
CONTACT US
Here are a few reasons to contact my office:
Comment on Legislation: If you want to express your opinion about legislation or learn more, my office can answer your questions and keep me informed of your comments. Your opinion matters!
If You Need Help: If you have a problem dealing with any department of state government, such as accessing unemployment benefits, my office can help you resolve it. While we usually cannot assist with local or federal issues, we will always do our best to help direct you to the appropriate person.
There's No "Wrong" Reason: Any comment, question or concern is welcome. If your issue would be more appropriately addressed by a different unit of government, I will help direct you. Remember, I am here to serve YOU and your family.
I have other questions. Are you and your office still available?
To keep you and my staff healthy and safe, we may be working remotely at times. Please call our office at (517) 373-1801 or send me an email at SenWBrinks@senate.michigan.gov, as you normally would, and we will do our best to avoid any interruption of service.
Helpful Links