Senate District 1 Update

February 4, 2021
Friends,
I hope everyone is staying healthy and safe. I just wanted to connect with you about some upcoming events and a few important legislative and community updates below.
UPCOMING EVENTS
Friday, Feb. 12: Virtual Coffee Hour with Rep. Darrin Camilleri
From 10:30 to 11:30 a.m., join me and Rep. Darrin Camilleri for legislative updates, and more. Join us for the conversation at Facebook.com/StephanieChangMI.
SAVE THE DATE!
Wednesday, Feb. 24: Unemployment Benefits Tele-Town Hall
From 6:00 to 7:00 p.m. please join me and Rep. Abraham Aiyash for a tele-town hall to where residents will have the opportunity to ask questions and receive updates on the Unemployment Insurance Agency's efforts during COVID-19. Stay tuned for additional information as this date gets closer!
Friday, Feb. 26: Virtual Coffee Hour with Detroit Council President Pro Tem Mary Sheffield
From 4:00 to 5:00 p.m., join me and Detroit Council President Pro Tem Mary Sheffield for district updates, and more. For more information, please visit Facebook.com/StephanieChangMI or register to receive the information to join the Zoom meeting here.
BILLS INTRODUCED SO FAR IN 2021
I hit the ground running when the 101st Legislature convened on Jan. 13 and have re-introduced seven bills so far:
Senate Bill 53: Recounts. Currently the law prohibits the recounting of ballots in a precinct if:
The seal on the ballot container is broken or has a different number than what is recorded in the poll book.
The number of ballots to be recounted and the number of ballots indicated on the poll list or computer printout are mismatched.
And/or, if the seal used to seal the ballot label assembly to a voting device in the precinct is broken or has a different number than what is recorded in the poll records.
This bill strikes these exceptions above, so that all precincts will be recounted. Over the past few years, we have learned that many voting precincts had small discrepancies based on minor human error that would have resulted in thousands of Michigan voters' ballots becoming ineligible for a recount.
Senate Bill 54: AQEM. This bill creates the Air Quality Enforcement and Mitigation Fund and outlines how the money collected from fines from polluting companies would be spent to mitigate air pollution in communities facing disproportionate environmental burden. Currently, fines paid by polluters go to the state's General Fund. This bill would ensure that those dollars are spent in the communities harmed by air quality violations.
Senate Bill 65: Korematsu Day. This bill would recognize January 30 of each year as "Fred Korematsu Day" in Michigan. Fred Korematsu was an important civil rights hero with direct ties to the state of Michigan. He was born on Jan. 30, 1919 in Oakland, California. Following the attack on Pearl Harbor in 1941 and the issuance of Executive Order 9066 during World War II, Korematsu was one of the 120,000 Japanese Americans ordered into internment camps, but in May 1942, at the age of 23, he was arrested for defying the order. After the war ended, Korematsu moved to Michigan, where he continued fighting his conviction. Nov. 10, 1983, the U.S. District Court of Northern California overturned it, in what is now considered a pivotal decision in civil rights history. In 1998, Fred Korematsu was awarded the Presidential Medal of Freedom.
Senate Bill 66: Language Access. Michigan is becoming a more diverse state and includes a large and growing immigrant population, with 6.9% of Michiganders being foreign-born. This bill would require state departments and agencies to develop language access plans and take reasonable steps to provide equal language access, which could include a variety of actions such as oral language services and translating vital documents into languages spoken by LEP populations that constitute at least 3% of the population in that geographic area, or 1,000 or more people served by that local office.
Senate Bill 73: Removes antiquated references to abortion. This bill is part of a four-bill package that would remove language from the Michigan Compiled Law that pre-dates the 1973 Roe v. Wade decision.
Senate Bill 108: Bulk solid materials and petroleum coke. This bill would require that petroleum coke and other bulk solid materials be properly covered to prevent airborne dust and water runoff into our waterways and that these materials are securely contained when transported. Variations of these requirements are now ordinances in Detroit and Dearborn, but not in the rest of the state.
Senate Bill 109: Cumulative Impact. This bill would require that new or renewal Air Quality Permits issued by the Department of Environment, Great Lakes, and Energy in certain geographic areas include a study on cumulative pollution levels and effects, paid for by the applicant.
EGLE MARATHON CONSENT ORDER
Marathon Petroleum Company and the Michigan Department of Environment, Great Lakes, and Energy (EGLE), Air Quality Division (AQD) have announced a consent order to resolve Marathon's violations for failing to demonstrate compliance with their Renewable Operating Permit, and state and federal air quality rules and regulations that occurred from September 2017 to June 2019.
These violations include:
Exceeding the particulate matter (PM), hydrogen sulfide, and visible emission limits for several processes.
Failing to continuously monitor flares.
Failing to maintain the minimum inlet velocity to the primary internal cyclones of the Fluid Catalytic Cracking Unit.
Failing to properly vent and combust gases in the Coker Flare.
Emitting nuisance odors on multiple occasions.
As part of this order, Marathon agreed to retrofit an existing air handling system at the Mark Twain School for Scholars. They also will create a public online website that will share real-time air quality data at the perimeter of the refinery. This website will share carbon monoxide, PM, sulfur dioxide, total reduced sulfur, and volatile organic compound data on the Detroit Refinery Community Website.
Marathon will pay a total of $363,853, the cost of the above projects and $81,853 to the State of Michigan General Fund.
Thank you to so many advocates and residents for successfully advocating for this important supplemental environmental project!
EGLE, DETROIT RENEWABLE POWER CONSENT JUDGMENT
The Michigan Department of Environment, Great Lakes, and Energy (EGLE) has entered into a Consent Judgment with Detroit Renewable Power to legally resolve violations of air quality and waste management rules and regulations. Detroit Renewable Power has a long history of violations with EGLE, and the requirements of the Consent Judgment will remove the ability to burn trash at the site.
In summary, the Consent Judgment:
Removes the ability to burn trash by requiring the permanent shutdown of the three spreader-stoker boilers at the facility in Detroit.
Requires payment of a penalty of $200,000 for air quality violations.
Includes additional fines for future potential non-compliance.
Voids the current air permits as they are no longer needed.
Allows for continued operation as a solid waste transfer facility with an enforceable timeline for the facility to apply and receive required permits and licenses or fully stop operations.
MICHIGAN RECONNECT PROGRAM INFORMATION
Applications are now available for tuition-free college scholarships!
On Tuesday, Feb. 2, Gov. Gretchen Whitmer Gov. Gretchen Whitmer announced the launch of the $30 million Michigan Reconnect program, the largest effort in state history to ensure that more than 4.1 million Michiganders who are 25 or older, and who do not have a college degree, will have an opportunity to earn a tuition-free associate degree or skills certificate.
PLEASE NOTE: Due to unprecedented demand, the skills certificate component of this program is already closed to applications as of Feb. 3.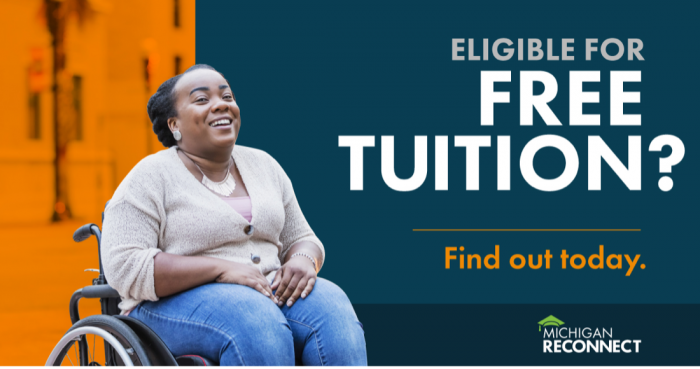 Reconnect scholarships are accepted by all Michigan community colleges and are even available to eligible adults who are already enrolled in their local community college. The program pays the remaining balance of tuition and mandatory fees after other state and federal financial aid have been applied. For those who choose to attend an out-of-district community college, Reconnect will pay the in-district portion of tuition.
Eligibility
To be eligible for Michigan Reconnect, you must:
Be at least 25 years old when you apply.
Have lived in Michigan for a year or more.
Have a high school diploma.
Have not yet completed a college degree (associate or bachelor's).
Applications
Michiganders can submit applications at Michigan.gov/Reconnect. The application takes less than five minutes to complete and can be done on a mobile device.
The Michigan Department of Labor and Economic Opportunity (LEO) is administering Reconnect in partnership with the Michigan Department of Treasury.
FACE MASKS REQUIRED WHEN RIDING PUBLIC TRANSIT
In compliance with an order issued by the Centers for Disease Control and Prevention (CDC) on Jan. 23, the Michigan Department of Transportation (MDOT) reminds everyone to mask up when working and riding on public transportation systems, rail, and van, bus, and motor coach service providers to reduce the spread of COVID-19. The CDC Order implements President Joe Biden's Executive Order 13998, Promoting COVID-19 Safety in Domestic and International Travel, "to save lives and allow all Americans, including the millions of people employed in the transportation industry, to travel and work safely."
The CDC order is in addition to the Michigan Department of Health and Human Services (MDHHS) existing epidemic order that requires all transportation providers' staff and patrons to use face masks, and to enforce social distancing among all patrons to the extent feasible.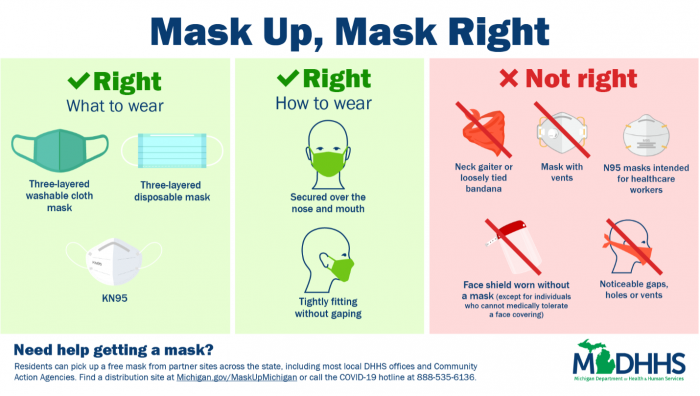 Science-based measures are critical to preventing the spread of COVID-19. Mask-wearing is one of several proven life-saving measures, including social distancing, frequent hand washing, appropriate ventilation, and timely testing, that can reduce the transmission of COVID-19. Requiring masks will protect America's transportation workers and passengers, help control the transmission of COVID-19, and aid in reopening America's economy.
Thank you for reading this update. As always, please do not hesitate to contact my office at (517) 373-7346 or senschang@senate.michigan.gov if we can assist you in any way.
Stay safe,

Stephanie Chang
State Senator
1st District