Senate District 6 Update

April 28, 2021
Note from Erika 
 
Dear Friends and Neighbors: 
Happy Michigan Spring! April showers bring May flowers! As we begin to experience warmer spring weather and obtain our COVID-19 vaccinations, it is still important that we practice social distancing and wear masks when around others.
The CDC has updated their guidance for mask-wearing when outdoors. People who are fully vaccinated (which means two weeks past their second dose of the Moderna or Pfizer vaccine, or two weeks past their dose of the Johnson & Johnson vaccine), may omit their mask/face covering when outdoors if also with other fully vaccinated individuals. Visit the CDC website for full guidance.
Please be aware that our office continues to serve Michigan's 6th Senate District remotely. If you have any questions or concerns, we can be reached by email at SenEGeiss@senate.michigan.gov and by voicemail at (517) 373-7800. 
 
Stay safe and be well, 

Erika Geiss
State Senator
6th District
In This Issue 
COVID-19 Vaccine Information
Legislative Update
Upcoming Coffee Hour
Community Update 
 
COVID-19 VACCINE INFORMATION
Wayne County has added no-appointment-necessary walk-in COVID-19 Vaccine clinics in SD6 for residents and employees ages 16 and up. Times are Monday through Saturday, 8 am to 3 pm. Individuals under the age of 18 will need a parent or guardian with them.
Locations:
9555 Haggerty Road, Belleville, MI 48111 (WCCCD Western Campus)
1 Maguire St., Flat Rock, MI 48134 (Flat Rock Community Center)
21000 Northline Road, Taylor, MI 48180 (WCCCD Downriver Campus)
Masks are required at all locations.
Residents who don't have access to the internet or need assistance navigating through the registration process can use the MDHHS COVID-19 Hotline to register. Call Monday through Friday from 8 a.m. to 5 p.m., and Saturday and Sunday 8 a.m. to 1 p.m. It is expected that the call center will have long wait times, so calling is recommended only to people who cannot register online or by text.
The MDHHS COVID-19 Hotline can be reached at 888-535-6136 (press 1).
Residents may also receive vaccine location information by texting VACCINE to 313-395-1255.

LEGISLATIVE UPDATE
Senate Bill 369 – Art and Music Education
Last week, I reintroduced Senate Bill 369, the K-5 Music Education bill, which requires that schools provide a minimum of 90 minutes per week of art and music education for K-5 students.
Providing our students with regular access to art and music education benefits them to grow into creative thinkers and expand on their ability to engage with the world around them, which are skills that we should be providing them with. It has also been observed that participation in the arts and music education is related to higher academic performance in core subjects.
Senate Resolution 39 – Black Maternal Health Week
Earlier this month, I introduced, and the Senate passed, Senate Resolution 39 to declare the week of April 11-17, 2021 as Black Maternal Health Week in Michigan. It is of the utmost importance we recognize the disparity in health outcomes for Black mothers and infants so that we can work to reverse these trends. The CDC shows that Black women are two to three times more likely to die from preventable diseases while giving birth compared to their white counterparts. I was honored that my Senate colleagues adopted this resolution to strengthen the need for maternal health and rights.

UPCOMING COFFEE HOUR
I hope you can join me for a virtual coffee hour this Thursday, April 29, at 6:00 PM! 
The discussion topic will be centered on financial literacy and the best ways you can manage your money. Alex Morris, Assistant Vice President of Advocacy at the Michigan Bankers Association, and Deleanna Allen and Damika Clark from Public Service Credit Union will be joining me to help me answer any questions you might have.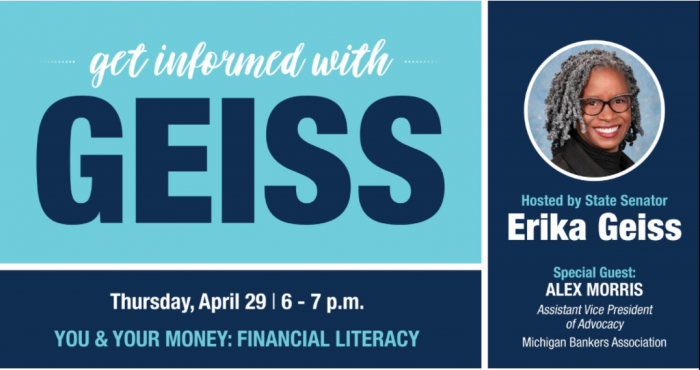 WHO: Sen. Erika Geiss (D-Taylor); Alex Morris (Michigan Bankers Association); Deleanna Allen and Damika Clark (Public Service Credit Union)
WHAT: Get Informed with Geiss Virtual Coffee Hour
WHEN: Thursday, April 29, from 6:00 to 7:00 PM
WHERE: Online Zoom meeting streamed to Sen. Geiss' Facebook page
Please use this form to RSVP to the coffee hour and to receive a link to join the meeting. Registration deadline is Wednesday, April 28, by 5:00 PM. You will be emailed a link to the meeting, along with any other necessary information, prior to the event.
Kindly note that any speaker(s) are subject to change due to last-minute scheduling needs, unforeseen circumstances, etc. and we appreciate your understanding in advance.

COMMUNITY UPDATE
Congratulations to the PAWS Clinic of Taylor for the resolution presented to them by County Commissioner Raymond Basham for their incredible work to reduce animal homelessness and euthanasia. You can read more about their meaningful mission by reading this article posted in the News-Herald.