Senate District 6 Update

May 13, 2021
Note from Erika
Dear Friends and Neighbors:
I want to wish a belated Happy Mother's Day to all the moms, grandmas, and maternal figures who have worked hard to raise us to become the people we are today!
Please be aware that our office continues to serve Michigan's 6th Senate District remotely. If you have any questions or concerns, we can be reached by email at SenEGeiss@senate.michigan.gov and by voicemail at (517) 373-7800.

Erika Geiss
State Senator
6th District
In This Issue

Legislative Updates
STATE BUDGET 
We began the process of moving budgets for state departments this week, although we are still somewhat early in the budget process. The state House will move their proposals in separate bills, then Gov. Gretchen Whitmer will come to a consensus with legislative leaders — and especially Republicans, who control both chambers — and a final budget will be passed from there.
To this point, though, Senate Republicans have slashed more than $700 million from what Governor Whitmer initially recommended for our state budget back in February — including cuts to: 
The Michigan Occupational Health and Safety Administration, which has been at the forefront of protecting employees from scrupulous employers during the pandemic.
Funding for the Futures for Frontliners program, which the governor created to help people who have served us on the frontlines during the pandemic.
Funding for Local First Responder Training and Recruitment Grants.
Double-Up Food Bucks, which helps lower-income families to purchase healthy food from local farmers' markets and grocery stores. 
 My Senate Democratic colleagues and I repeatedly offered amendments to restore funding on these and other initiatives to levels proposed by the governor, whose budget recommendations had prioritized increases for K-12 per-pupil funding, infrastructure repair, continued wage increases for direct-care workers, and childcare assistance, among other initiatives. They were repeatedly denied. 
We'll keep working for the issues that matter most to our communities, because we know how difficult it has been for so many people to put food on the table, pay their bills, and keep their head above water. Community matters, and we won't stop until they know that. 

SENATE JOINT RESOLUTION H
I introduced a resolution to ensure that the power of voter-led initiatives remain with the people of Michigan and are not hijacked by special interest groups. Senate Joint Resolution H would amend the Michigan Constitution to require voter initiatives approved by the Board of Canvassers go straight to the ballot, rather than allowing the legislature an opportunity to pass the initiative before it gets printed on the ballot. There have been too many instances in recent years in which the Legislature has undermined or ignored the will of the people, and I am proud to introduce this Resolution to make this needed change.
Upcoming Coffee Hour
Please join me for our upcoming coffee hour on May 20th at 6:30 PM for an update on the vaccine rollout and availability. We will be joined again by Genelle Allen, the Chief Operating Officer of Wayne County.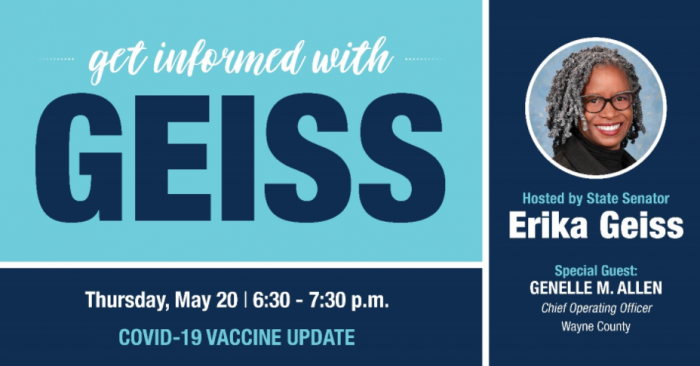 Please use this form to RSVP to the coffee hour and to receive a link to join the meeting. Registration deadline is Wednesday, May 19, by 5:00 PM. You will be emailed a link to the meeting, along with any other necessary information, prior to the event. 
If you were unable to attend our previous coffee hour on financial literacy and ways you can best manage your money, you may visit our Facebook page and view the recorded version there.
Vaccine Update
It's important that we all #SleeveUp and get our COVID-19 vaccine so that together, we can get #Vacc2Normal.
Wayne County continues to offer walk-in COVID-19 Vaccine clinics in SD6 for residents and employees ages 16 and up. Times are Monday through Saturday, 8 am to 3 pm. Individuals under the age of 18 will need a parent or guardian with them.
9555 Haggerty Road, Belleville, MI 48111 (WCCCD Western Campus)
1 Maguire St., Flat Rock, MI 48134 (Flat Rock Community Center)
21000 Northline Road, Taylor, MI 48180 (WCCCD Downriver Campus)
You can register for a vaccine appointment at the Wayne County Health Department website.
Masks are required at all locations.
Residents who don't have access to the internet or need assistance navigating through the registration process can use the MDHHS COVID-19 Hotline to register. Call Monday through Friday from 8 a.m. to 5 p.m., and Saturday and Sunday 8 a.m. to 1 p.m. It is expected that the call center will have long wait times, so calling is recommended only to people who cannot register online or by text.
The MDHHS COVID-19 Hotline can be reached at 888-535-6136 (press 1).
Residents may also receive vaccine location information by texting VACCINE to 313-395-1255.
Rental and Utility Assistance
For renters: MSHDA operates the COVID Emergency Rental Assistance (CERA) Program through local nonprofits. This program helps with water, energy bills, and rent. Learn more here.
For non-renters: The State Emergency Relief (SER) Program provides eligible seniors and low-income families with assistance paying water, electric, and heating bills, and helps restore or keep utility services. Find this resource through local DHHS offices; the application is here. (*Must apply for SER before receiving MEAP services.)
Updates to Gatherings and Face Mask Epidemic Order
On Tuesday, May 4, the Michigan Department of Health and Human Services (MDHHS) updated its COVID-19 Gatherings and Face Masks epidemic order, effective Thursday, May 6 through Monday, May 31.
Under the revised order, masks are generally not required outdoors unless a gathering has 100 or more people.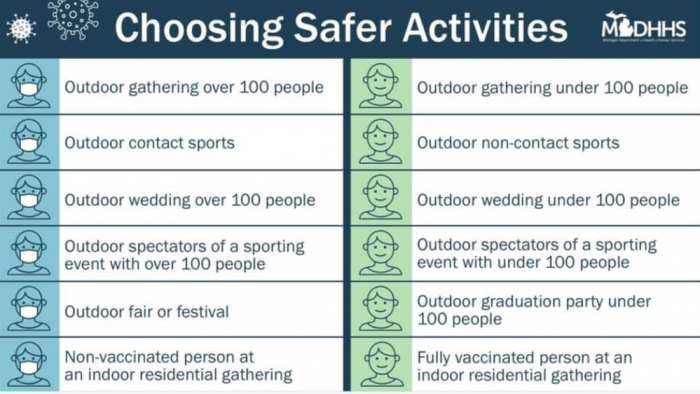 In addition, anyone who is fully vaccinated and not experiencing symptoms is not required to wear a mask at residential gatherings, including indoors. New guidance for organized sports no longer requires routine COVID-19 testing for fully vaccinated participants if they are asymptomatic. Masks continue to be required for contact sports but are no longer required outdoors during active practice and competition for non-contact sports. For example, softball and baseball players will be required to wear a mask in the dugout but not when at bat or playing first base.
MDHHS continues to urge Michiganders to follow CDC guidance, even where not specifically required by an epidemic order. For people who aren't yet fully vaccinated, that means masking up whenever around other people not from your household.
Updates to the Gatherings and Masks Order encourage outdoor events with larger capacities permitted for entertainment and recreational facilities and for sports stadiums and arenas that hold events outdoors are as follows:
Large outdoor events, including festivals, fairs, and golf tournaments will be able to exceed the current 1,000-person limit so long as they create and post a safety plan consistent with the MDHHS Large Outdoor Event Guidance, and no more than 20 persons per 1,000 square feet are gathered in any space available to patrons.
Outdoor stadiums and arenas:
Stadiums complying with enhanced protocols will continue to be allowed to operate at 20% of their fixed seating capacity. For example, a stadium complying with enhanced protocols that seats 40,000 could host 8,000 patrons.
Otherwise, for stadiums or arenas with a fixed seating capacity of 5,000 or greater without enhanced protocols, 1,000 patrons may be gathered (previously 750).
For stadiums or arenas with a fixed seating capacity of 10,000 or greater without enhanced protocols, 1,500 patrons may be gathered.
Residential outdoor gatherings are allowed up to 50 people. Or, where density does not exceed 20 persons per 1,000 square feet of usable outdoor space, up to 300 people may be gathered.

Community Update
Check out this article about Jamie Bertschinger, who recently launched Lasagna Love, a volunteer group dedicated to making food for those in need in communities across the nation.