[YOU'RE INVITED] Virtual Coffee Hour on Thursday at 6:30 PM

May 18, 2021
Dear Friend, 
I'm inviting you to join me for a virtual coffee hour this Thursday, May 20 at 6:30 PM! 
The discussion topic will be centered on the safe and effective COVID-19 vaccine and the effort underway to ensure that everyone who wants to get vaccinated can and does so. I am pleased to be joined again by Wayne County Chief Operating Officer Genelle M. Allen as well as Dr. Oluwaferanmi O. Okanlami, the Interim Director of Services for Students with Disabilities at the University of Michigan Medical System. They will give us an update on the vaccine rollout in our communities and help me answer any questions you might have.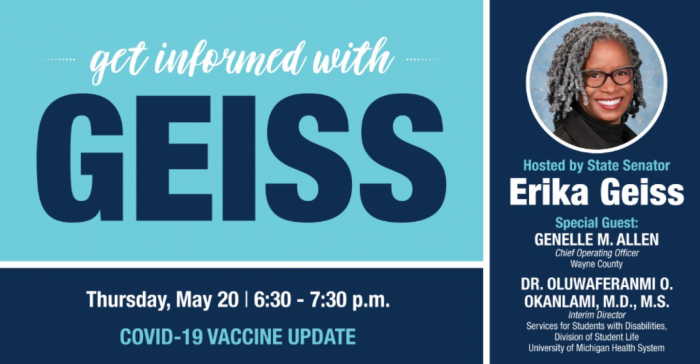 WHO:
Sen. Erika Geiss (D-Taylor)
Genelle M. Allen, Chief Operating Officer, Wayne County
Dr. Oluwaferanmi O. Okanlami, Interim Director of Services for Students with Disabilities, University of Michigan
WHAT: Get Informed with Geiss Virtual Coffee Hour
WHEN: Thursday, May 20, from 6:30 to 7:30 PM 
WHERE: Online Zoom meeting streamed to Sen. Geiss' Facebook page
Please use this form to RSVP to the coffee hour and to receive a link to join the meeting. Registration deadline is Wednesday, May 19, by 5:00 PM. You will be emailed a link to the meeting, along with any other necessary information, prior to the event. 
Kindly note that any speaker(s) are subject to change due to last-minute scheduling needs, unforeseen circumstances, etc. and we appreciate your understanding in advance.
I hope to see you online soon and look forward to chatting with you all!

Erika Geiss
State Senator
6th District