Senate District 6 Update

June 9, 2021
Note from Erika  
Happy Pride Month to the LGBTQ+ community! For the first time, the Michigan Legislature officially recognized #Pride month with Senate Resolution 60. While this is an exciting moment for our state, it is important to acknowledge the ongoing fight for quality, respect, and tolerance for the freedom to be and love who and how you love, completely and authentically, not just during Pride Month in June, but all year long and every day.
Please be aware that while we are re-engaging in-person office operations, we also continue to serve Michigan's 6th Senate District remotely. If you have any questions or concerns, we can be reached by email at SenEGeiss@senate.michigan.gov and by voicemail at (517) 373-7800.  

Erika Geiss
State Senator
6th District
In This Edition
Legislative Update
Vaccine Update
Unemployment Assistance
Michigan's High-Speed Internet Office
Medical Anti-Bias Training
In the News
Community Update
Legislative Update
This week, I introduced two bills as part of a package to improve and expand broadband access in Michigan. You can read more about this package, as well as the newly created MI Office on High-Speed Internet below.
Senate Bill 518: $25M for Mobile Hotspots/Network Technology
Part of an 8-bill package, this bill would establish a $25 million grant program for schools to purchase hotspots, laptops, and other digital tools. We know that high-speed access is critical to a 21st century education — whether it is in-person or virtual — and this bill will make sure that every student has the opportunity to stay connected to fully engage with their learning.
Senate Bill 520: Education on Digital Literacy and Cybersafety
Senate Bill 520 would require the Michigan Department of Technology, Management, and Budget to provide resources and lesson plans on digital literacy and cybersecurity. This bill would help educate Michiganders on navigating the internet well and safely.
Vaccine Update
It's important that we all #SleeveUp and get our #MIDoseof Hope COVID-19 vaccine so that together, we can get #Vacc2Normal.
Wayne County continues to offer walk-in COVID-19 Vaccine clinics in SD6 for residents and employees ages 12 and up. Times are Monday through Saturday, 8 a.m. to 3 p.m. Individuals under the age of 18 will need a parent or guardian with them. Senate District 6 locations include:
9555 Haggerty Road, Belleville, MI 48111 (WCCCD Western Campus)
1 Maguire St., Flat Rock, MI 48134 (Flat Rock Community Center)
21000 Northline Road, Taylor, MI 48180 (WCCCD Downriver Campus)
You can register for a vaccine appointment at the Wayne County Health Department website.
Masks are required at all locations.
Residents who don't have access to the internet or need assistance navigating the registration process can use the MDHHS COVID-19 Hotline. Call Monday through Friday from 8 a.m. to 5 p.m., and Saturday and Sunday 8 a.m. to 1 p.m. It is expected that the call center may still have long wait times, so calling is recommended only to people who cannot register online or by text.
The MDHHS COVID-19 Hotline can be reached at 888-535-6136 (press 1). Residents may also receive vaccine location information by texting VACCINE to 313-395-1255.
Homebound residents of Wayne county now have the option to get a COVID-19 vaccination at home! Any homebound residents age 12 years and older can call one of the following numbers to schedule an in-home vaccination.
Belleville
734-699-1400 (Press 1)
Brownstown Township
734-675-0920
Flat Rock
734-782-2455 (Ext. 6)
Huron Township
734-854-3802
Rockwood
734-379-9496
Romulus
734-955-4533
Sumpter Township
734-461-4833
Taylor
313-291-7740
Van Buren Township
734-699-8910
Westland
734-467-3201
Unemployment Assistance
If you or someone you know who lives in Senate District 6 is having trouble receiving their Unemployment Insurance (UI) or Pandemic Unemployment Assistance (PUA), please fill out this unemployment assistance form and our office will reach out to assist you with your issue as soon as possible.
You can also visit the Michigan Secretary of State FAQ page for answers to questions you may have regarding eligibility for unemployment or for issues you may have with your current claim.
State Creates Michigan High-Speed Internet Office
On Tuesday, June 1, Governor Gretchen Whitmer issued Executive Directive 2021-02 to help bridge the digital divide by establishing the Michigan High-Speed Internet Office (MIHI) to make high-speed internet more affordable and accessible.
With broadband access becoming a necessity, the new office will be dedicated to coordinating and advancing efforts to ensure that every home and business has access to an affordable, reliable high-speed connection that meets their needs and that they have the skills to use it effectively.
Gaps in high-speed internet availability, affordability, adoption, and use disproportionately impact communities of color, those in rural areas, and low-income households, including areas of Senate District 6. Lack of quality internet access costs Michigan $2.5 billion per year in lost economic benefits. Evidence shows that increasing opportunities to get connected have a range of benefits, including education, health outcomes, small businesses, seniors, civic engagement, climate change, rural development, and more.
Fostering Futures Scholarship Applications Due June 30
Young adults who have experienced foster care on or after their 13th birthday have less than a month remaining to apply for a scholarship from the Fostering Futures Scholarship Trust Fund, according to the Michigan Department of Treasury.
The Fostering Futures Scholarship application period for academic year 2021-22 will stay open until June 30, 2021. Eligible students enrolled at a Michigan degree-granting college or university may now apply to receive scholarship funds for tuition, fees, room, board, books, and supplies.
To learn more about the Fostering Futures Scholarship, visit FosteringFutures-MI.com.
Fostering Future Scholarship applicants with questions should contact the state Treasury Department's Student Scholarships, Grants and Outreach area at MIStudentAid@michigan.gov or call toll-free at 1-888-4-GRANTS (888-447-2687).
Health Professionals Required to Undergo Anti-Bias Training
I was proud to stand with Gov. Gretchen Whitmer and the Department of Licensing and Regulatory Affairs (LARA) to announce an important step in addressing health care disparities and improving equity in the delivery of health care to all Michigan residents. Beginning June 2022, some 400,000 health professionals licensed through LARA will need to undergo training on implicit bias to obtain or renew their license.
New applicants for licensure or registration will need to complete a minimum of 2 hours of training, and applicants for renewal will need to complete a minimum of 1 hour of training each year. The annual training curriculum can cover a variety of topics related to implicit bias but must incorporate strategies to reduce disparities including the administration of self-assessments.
Implicit bias training may be sponsored by a nationally or state recognized health-related organization, an accredited college or university, a state or federal agency, a continuing education program approved by a state licensing board, or an organization specializing in diversity, equity, and inclusion issues. Several health care providers already offer implicit bias training and various health associations are currently developing training for their members. 
As a member of the taskforce with LARA to develop the rules, it is wonderful to see the state taking concrete, forward-moving steps to help improve health care for all Michiganders.
In the News: Conversation with Stateside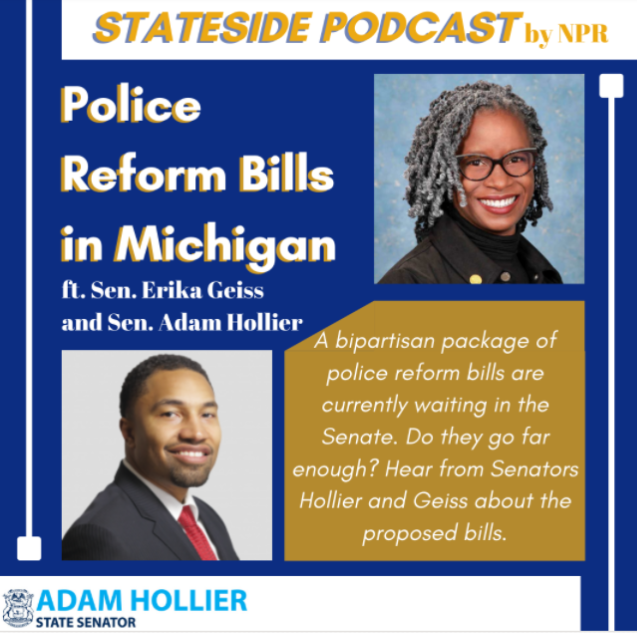 I was honored to join the Stateside podcast with my colleague and friend, Sen. Adam Hollier (D-Detroit), to discuss the bipartisan police improvement bill package. The bills would help make changes to policing in Michigan to improve systemic failures that have been evident for decades. While it isn't the wholesale police reform we need, it's a step in the right direction.
The package includes Senate Bills 473-484, which address: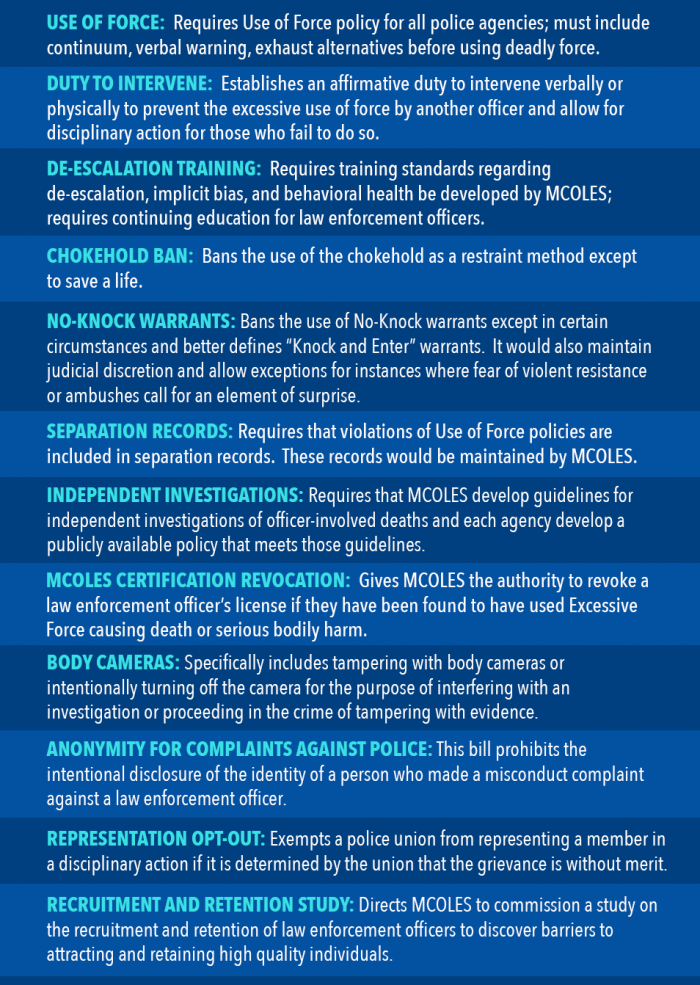 These important bipartisan reforms will help improve police-community interactions. Thus far in their current stages, they've received support from Attorney General Nessel, CampaignONE, and Michigan State Police as we work toward uniting solid legislation that works for all stakeholders.
>> Listen to the interview with Michigan Radio.
Community Update
Check out this article about students in Rockwood who got out to see the town and businesses without leaving their school grounds!