Senate District 6 Update

July 22, 2021
Note from Erika
I hope that all are staying safe during these times of rapidly changing weather. It is of the utmost importance that you and the ones you care about exercise caution as extreme weather events can happen quickly and without warning. It is of the utmost importance that if you need to find emergency housing due to water damage, you are vaccinated against COVID-19 to promote safety.
Please be aware that while we are re-engaging in-person office operations, we also continue to serve Michigan's 6th Senate District remotely. If you have any questions or concerns, we can be reached by email at SenEGeiss@senate.michigan.gov and by voicemail at (517) 373-7800.     

Erika Geiss 
State Senator      
6th District  
In This Edition 
FLOODING ASSISTANCE
On Thursday, July 15, President Biden issued a disaster declaration allowing individual assistance for Wayne County as a result of the heavy rainfall and flooding that occurred in late June. The declaration comes after Gov. Whitmer sent a letter to President Biden on July 13 requesting that he declare an emergency disaster for the state of Michigan.  
Federal Emergency Management Agency Resources
Residents and business owners who sustained losses in the designated counties can begin applying for assistance by visiting the FEMA.gov webpage or by calling 1-800-621-FEMA(3362) or 1-800-462-7585 (TTY) for the hearing and speech impaired. The toll-free telephone numbers will operate from 7:00 a.m. to 9:00 p.m., seven days a week until further notice. 
Individual Assistance 
FEMA's Individual Assistance mission ensures disaster survivors have timely access to a full range of authorized programs and services to maximize recovery through partnered coordination of STTL governments, as well as other federal agencies, non-governmental organizations, and the private sector. Click here to read a Fact Sheet about Individual Assistance Programs. 
Sequence of Delivery 
Click here to view an Individuals and Households Program (IHP) Sequence of Delivery Fact Sheet that outlines the order in which funding will be distributed and to whom. 
Hazard Mitigation Assistance Grants 
FEMA's hazard mitigation assistance provides funding for eligible mitigation measures that reduce disaster losses, reduces vulnerability of communities to disasters and their effects, and more. Click here to view a pamphlet on these grants, including a FAQ and additional resource links. 
Michigan Department of Health & Human Services Resources 
The State Emergency Relief program provides immediate help to families and individuals facing conditions of extreme hardship or for emergencies that threaten health and safety. It is available to eligible residents that need help with home repairs necessary to correct unsafe conditions and restore essential services. 
Applicants must be the owner or purchaser of the home and meet other eligibility requirements, including income limits, to qualify. 
The lifetime maximum amount of funds available for non-energy related home repairs is $1,500 per household. State Emergency Relief Program assistance is available for repairs not covered by homeowner's insurance for the basic house structure, hot water heater, septic/waste disposal system, doors/windows, extermination services, electrical, plumbing, roofs and wells. 
To apply for State Emergency Relief, visit Michigan.gov/MIBridges. Anyone who does not have internet access or needs assistance applying can contact their local MDHHS office. Or call 2-1-1 to be referred to other community resources. 
Metro Resources 
Wayne Metro is accepting applications for emergency food and supplies, rent and utility assistance, along with property and income tax assistance. Additionally, Wayne Metro is also accepting applications for the Great Lakes Water Authority WRAP (Water Residential Assistance Program) that provides eligible residents of the GLWA service area with payment assistance and home water conservation services. 
Call (313) 388-9799 or visit WayneMetro.org/Programs to find out what relief programs you may be eligible for. 
UNEMPLOYMENT ASSISTANCE
On Wednesday, June 23rd, the Unemployment Insurance Agency (UIA) announced it would begin offering in-person unemployment insurance services at 12 unemployment offices as of June 30 by appointment only. Walk-ins will not be accepted.
Residents across Michigan can begin scheduling appointments online. Each appointment is offered in 15-minute intervals and can be scheduled up to a week in advance. Appointments will be available 8:15 AM through 4:45 PM, Monday through Friday. The Wayne County office is located at 3024 W. Grand Blvd., Suite L-385, Detroit, MI 48202.
The UIA will only be accepting appointments for issues pertaining to:
Pending payments/payments pending manager review
Non-monetary cases
Stop payment indicators
Additional claim indicators
Overpayments
The agency will retain some COVID-19 safety protocols such as requesting customers to wear a mask prior to entry. Customers should take their driver's license or photo ID and any other documents pertinent to their claim.
Being late for an appointment can cause it to be rescheduled. The UIA anticipates serving 900 customers a day through the in-person option. Please make sure to arrive in a timely fashion to ensure your appointment can be met. You can schedule an in-person appointment on the Michigan.gov/LEO website.
If you or someone you know who lives in Senate District 6 is having trouble receiving their Unemployment Insurance (UI) or Pandemic Unemployment Assistance (PUA), please fill out this unemployment assistance form and our office will reach out to assist you with your issue as soon as possible.
You can also visit the Michigan.gov/LEO FAQs page for answers to questions you may have regarding eligibility for unemployment or for issues you may have with your current claim.
RENT AND UTILITY ASSISTANCE
The Centers for Disease Control's eviction moratorium is set to expire on July 31, 2021. To help combat a wave of upcoming evictions, the Michigan State Housing Development Authority (MHSDA) is accepting applications for rental and utility assistance for those who fell behind on their rent and utilities during the COVID-19 pandemic.
Visit Michigan.gov/CERA for more information.
Who is Eligible?
CERA serves renter households that have incomes less than 80% of Area Median Income (AMI) who meet the following conditions:
Individual(s) in the household have qualified for unemployment benefits or have experienced a reduction in household income, incurred significant costs, or have experienced other financial hardship due directly or indirectly to the coronavirus outbreak; and
Individual(s) in the household can demonstrate a risk of experiencing homelessness or housing instability evidenced by a past due utility or rent notice.
Documents Required to Determine Eligibility
Completed CERA Tenant application.
Copy of past-due rent notice, a notice to quit or a court ordered summons, complaint, or judgment.
Copy of state ID or passport for the tenant applicant, with proof of residency if address does not match the unit. (Alternate IDs are acceptable.)
Most current copy of lease agreement in tenant's name, if a written lease was completed.
Provide all proof of earned and unearned income for household members that live at the property and that are over the age of 18.
Household income/benefits (unemployment, SSI, etc.) for one month, OR
Copy of submitted 2020 IRS form 1040 (first two pages) OR
Food Assistance Program Notice of Case Action form (only applicable for households with 3 or less people.)
Copy of ALL utility statements the tenant is responsible for, if applicable.
Copy of Internet bill/statement, if applicable.
How to Apply
To begin the application process, use the secure online application portal and click on "Apply Now" to submit your application for assistance.
You may also call the Out-Wayne county office at (734) 284-6999 between 8 AM and 6 PM, Monday through Friday, and between 9 AM and NOON on Saturday.
Click here for other FAQs on the application process.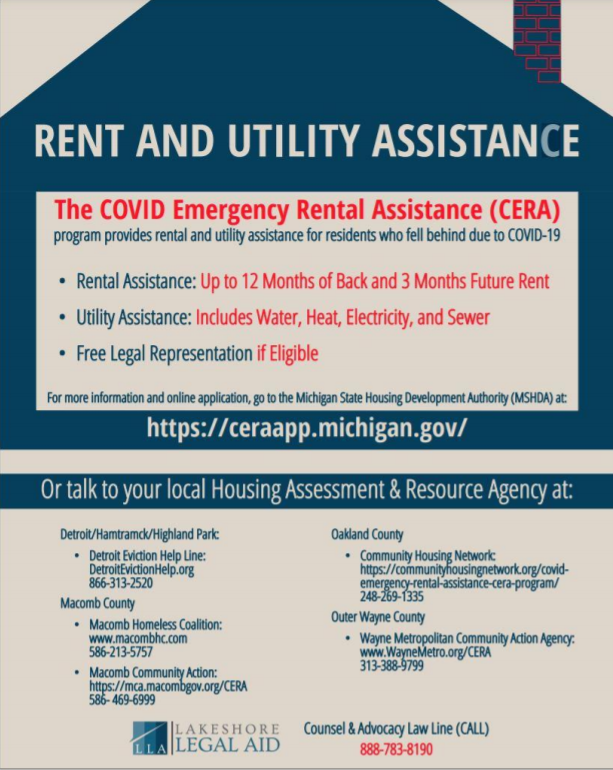 VOTERS WITH AUGUST ELECTIONS SHOULD RETURN ABSENTEE BALLOTS IN PERSON, VIA DROP BOX 
Michigan voters in the 54 counties with elections on Aug. 3 should now return their absentee ballots in person or via drop box. The location of the local election clerk's offices and area drop boxes, as well as voter information for applicable elections, can be found at Michigan.gov/Vote. 
Those who do not yet have a ballot are encouraged to visit their local election clerk's office, where they can be issued one, vote it, and return it to the clerk in the same visit. Those who already have a ballot at home should fill it out, sign the back of the envelope, and return it in person or via drop box as soon as possible. 
Registered voters can vote early with an absentee ballot at their clerk office now through Aug. 2, or at their polling place on Election Day, Aug. 3. Those who haven't registered can register online through next Monday, July 19, or register and vote in one trip to their clerk office now through 8 p.m. on Election Day, Aug. 3. 
For more election information, including the location of the local clerk's office, area drop boxes, and sample ballots, voters can visit Michigan.gov/Vote. 
VACCINE REMINDER
Residents who are able to be vaccinated are urged to get any one of the safe and effective COVID-19 vaccines. To learn more about the COVID-19 vaccine and where to find the nearest vaccination site, visit Michigan.gov/COVIDvaccine and VaccineFinder.org.
If you have not yet been vaccinated, you may find vaccine locations by texting your ZIP code to GETVAX (438829) in English or to VACUNA (822862) en Español. 
LEGISLATIVE UPDATE
Unlock Michigan Ballot Initiative
On Wednesday, July 15th, Senate Republicans voted to adopt the Unlock Michigan ballot initiative to repeal the Emergency Powers of the Governor Act of 1945, which Gov. Whitmer utilized at the beginning of the COVID-19 pandemic. I rose in opposition to this initiative at a time when there are several much more pressing issues facing Michiganders that need the attention of legislators.
>> Watch my no-vote explanation here.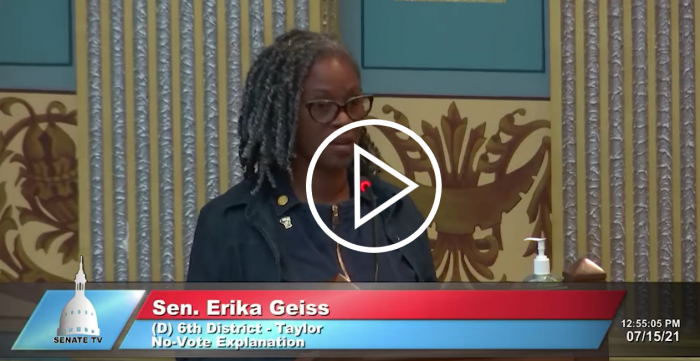 COMMUNITY UPDATE
The William P. Faust Library in Westland is currently holding its teen photography contest. Through July 31st, teens in grades 7-12 can share a photo that they have taken to be entered to win the library's Teen Summer Photography Contest.