18th District Update

September 24, 2021
Dear Neighbor,
As your State Senator, I want to make sure you're informed about state and local issues affecting our communities in the 18th District.
To that end, in the edition below, you can find information about:
An update on our state budget
My recent legislative work on:

Expulsion Prevention
Restoring the Good Time Policy

COVID-19 RESOURCES

Monday, September 27th: Pop-Up Constituent Services with Rep. Felicia Brabec, Rep. Ronnie Peterson and Rep. Yousef Rahbi
As always, you can reach my office at (517) 373-2406 or by replying to this email.
Working for you,

Jeff Irwin
State Senator
18th District
BUDGET UPDATE
This week, the state House and Senate approved a historic state budget that I was proud to support and work on. We voted on Senate Bill 82, which funds our state departments, and House Bill 4400, which provides a budget for higher education. These budgets total about $52.2 billion and make historic investments in infrastructure, child care and higher education.
Here are some highlights:
$1.4 billion to increase eligibility and lower childcare costs, making 105,000 kids newly eligible for support. Childcare workers also receive a $1000 one-time bonus.
$460 million to enhance in-home care and nursing homes by making a $2.35 an hour raise permanent for direct care workers.
$65 million in environmental response money, PFAS cleanup and dam repairs, among other things.
A 5% increase for higher education, the largest increase in over a decade.
$86 million in General Fund to reduce university retirement obligations through the Michigan Public School Employees Retirement System or MPSERS. This is a big help to Eastern Michigan University.
$8.4 million to reduce health disparities and expand use of community-based navigators.
$6.7 million to assist in the treatment of around 400 adults suffering with Sickle Cell Disease, a condition that disproportionately affects Black people.
Revenue sharing to local governments is receiving a 2% increase.
$135 million into workforce development spread out over several programs, the largest being — Michigan Reconnect (tuition aid for returning community college students) earning $55 million, Going Pro (grants to businesses and schools to support employee training) receiving $40 million and Futures for Frontliners to have $25 million.
$500 million into the Rainy-Day Fund to increase the Budget Stabilization Fund to almost $1.4 billion.
$40 million in Pure Michigan advertising money to assist the tourism industry.
$3.8 million for body cameras for all state troopers and $4.5 million for professional development for violence de-escalation training that will support my police training bill, SB 482.
There were several Washtenaw County projects that earned support in this budget as well, including $500,000 for a community-based prison re-entry pilot, and funding for affordable housing, pedestrian safety, early childhood education, historical sites, and an arts and culture venue.
LEGISLATIVE UPDATE
Expulsion Prevention
Currently, Michigan students and their families face a severe lack of transparency as schools are not required to provide access to evidence prior to hearings. Notifications to students and their families are often nonexistent or at the last minute, and even though students experiencing homelessness have special federal protection, they often aren't considered. There are also no requirements for impartial hearing officers, and there is no defined appeal process. That's why my colleagues, Senators Erika Geiss and Adam Hollier, and I introduced Senate Bills 634-636 to prevent and reduce students being removed from school, while ensuring that their due process rights are protected during disciplinary actions.
Restoring the Good Time Policy
Michigan is one of just six states without a statewide Good Time or Earned Time policy for incarcerated individuals. Nearly 1-in-4 Michigan prisoners have served more than 10 years as sentence lengths have increased by 60-percent since 2005. Out of fifty states,
Michigan has the tenth largest prison population, the 22nd highest incarceration rate and spends the sixth most on corrections. Therefore, I introduced Senate Bills 649-652 restoring Michigan's "Good Time" system so that incarcerated individuals earn good time credit on a monthly basis for demonstrating positive behavior and a likelihood of success upon release. If an individual committed misconduct that month, their good time credit can be revoked. This set of four bills will improve safety inside prisons and save millions of dollars by allowing incarcerated individuals to earn credits toward their release through good behavior.
CONSTITUENT RESOURCE POP-UP EVENT
On Monday, September 27th at 2PM, I will be co-hosting a Pop-Up Constituent Services with state Reps. Felicia Brabec, Ronnie Peterson, and Yousef Rahbi.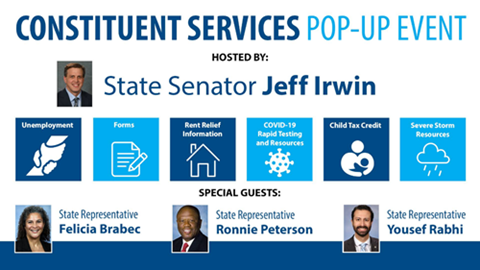 If you need help with something, we're bringing our services right to you! The event is open to all constituents living in Washtenaw County.
Services include:
Unemployment assistance
Forms that allow us to advocate on your behalf regarding DHHS programs or tax disputes
Rent relief information
COVID-19 rapid testing and resources
Child tax credit
Severe storm resources
From 2:00 to 5:00 PM, we will be on hand to provide you with assistance and resources at Packard Health (2650 Carpenter Road, Ann Arbor, MI 48108).
We believe that everyone deserves equitable access to the things you and your family need to live and thrive. A major function of our offices is connecting constituents like you with the right resource and helping to clear any red tape that may be preventing you from accessing those resources. Our teams are happy to help get you what you need!