Friends,
I want to address my constituents about the shooting at Michigan State University.
There are many, many families in my district with strong ties to MSU and with young people who currently attend the university. I want you to know that I feel your pain and hear your calls for action. 
As a member of the Firearm Violence Prevention Caucus in the Michigan Senate, please know that I'm committed to passing laws that can mitigate the scourge of gun violence–of all forms–in our country and our state. We know that not one law can fix this epidemic, but that won't stop us from acting. 
We WILL take action. 
In future newsletters I will continue to update you on what we're doing in the legislature to try to prevent this from happening again. Enough's enough. 
If you know someone who is an MSU student who may need additional support, 24/7 virtual crisis counseling is available through MSU's Crisis Resources for Students. Students can call (517) 355-8270 and press "1" at the prompt to speak with a crisis counselor anytime. Additional 24/7 crisis resources for students can be found HERE.
Featured in this newsletter: 
Senate Bill 12 Advances through Senate 

Legislative Updates 

Michigan Achievement Scholarship 

Mortgage Assistance 

Gov. Whitmer's Healthy Moms, Healthy Babies program now includes doula care 

Tax Return Fraud Prevention 

District Map 
Should you need any help, please do not hesitate to contact my office by phone at (517) 373-7350 or by email at SenDPolehanki@senate.michigan.gov. 

Dayna Polehanki
State Senator
District 5
SENATE BILL 12 ADVANCES THROUGH SENATE  
I am pleased to report Senate Bill 12 passed the Senate on February 8 with bipartisan support. It will now be sent to the House for consideration. My bill would remove the mandatory retention component of Michigan's Read by Grade Three law. When students demonstrate a lower level of reading at the third-grade level, the immediate response should not be holding that student back academically. In fact, retention can cause long-term emotional damage to students. 
Rather than holding our students back, we should continue to implement additional literacy supports that can help students improve their skills without the threat of retention. Since the passing of the Read by Grade 3 law in 2016, we have seen the parts of the law that provide coaching, professional development, and interventions for struggling readers have positive impacts on our students. All those elements will remain and prove that the law works without forced flunking. The reality is, we should not be abandoning struggling readers in third grade. Instead, we must continue to provide the support they need to achieve proficiency. 
LEGISLATIVE UPDATES 
Expanding the Earned Income Tax Credit (EITC) 
Senate Bill 3, which was passed by the Michigan Senate on January 26, 2023, would increase the state's match of the federal Earned Income Tax Credit (EITC) from 6 percent to 30 percent. This 30 percent match of the federal EITC would return around $553 million to local economies and small businesses and benefit nearly 750,000 Michigan workers. Additionally, it contains a provision that makes this increase retroactive to the 2022 tax year, which would give working families the ability to take this credit in this year's tax filing. 
By expanding the Working Families Tax Credit, we are giving more money directly back to the hardworking residents who need it most and offering them some concrete, immediate relief from inflation and the most pressing expenses in their daily lives. 
Repealing the Retirement Tax in Michigan 
For years, Michigan seniors have struggled to pay for a surprise tax hike when accessing retirement funds. Senate Bill 1, which was passed by the Michigan Senate on January 31, 2023, repeals the unpopular retirement tax, allowing senior citizens in Michigan to use their money saved for retirement without being taxed. Repealing the retirement tax can save 500,000 households an average of $1,000 a year. 
The legislation increases the deduction that senior taxpayers may claim each year, ultimately undoing the punitive and partisan tax on pensions enacted in 2012. Senior taxpayers will also have the option to use the pre-2012 tax system if it is more beneficial to them. Ultimately, SB 1 enables more seniors to live, work, and retire with dignity in this state. 
MICHIGAN ACHIEVEMENT SCHOLARSHIP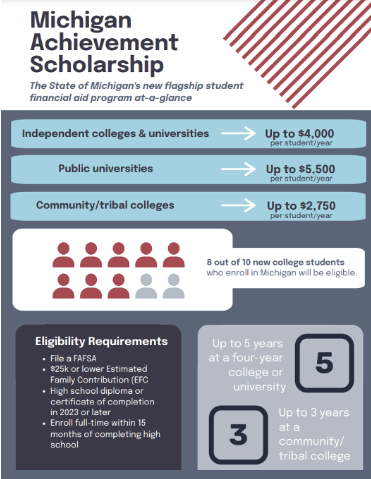 The Michigan Achievement Scholarship application has opened for all high school seniors! This scholarship provides:
Up to $2,750 if you attend a community college, per year 

Up to $5,500 if you attend a public university, per year 

Up to $4,000 if you attend a private college or university, per year
There is no deadline for this scholarship. Students have 15 months from either their high school graduation or high school equivalency completion to enter college and use the funds they are awarded.  
High school seniors can get started by following these steps:  
MORTGAGE ASSISTANCE 
Homeowners can apply for the Michigan Homeowner Assistance Fund program here, but before you start please make sure you have all the necessary documents and information. You can find what documents and information you'll need here. 
Who Is Eligible? 
Homeowners with household incomes less than 150% of Area Median Income (AMI) 

Homeowners who own and occupy the property as their primary residence 

Homeowners must have and explain a financial hardship directly related to COVID-19 on or after January 21, 2020.  
Eligible households can receive a grant worth up to $25,000 to help them pay the following delinquencies:
Mortgage/housing expenses, including property tax and insurance escrow shortages, 

Land contract payments, mobile home consumer loan payments or mobile home park lot payments, 

Property taxes, 

Condominium/homeowners' association fees, 

Homeowner's insurance, 

Utilities, gas, electric, water, sewer, or 

Internet broadband services 
GOV. WHITMER'S HEALTHY MOMS, HEALTHY BABIES INITIATIVE EXPANDS TO INCLUDE DOULA SERVICES FOR MEDICAID RECIPIENTS
Michigan has become one of the first states to support expecting mothers by covering doula services with Medicaid, so they receive the care they need for a healthy pregnancy and support for interventions that are proven to increase health outcomes for women and their children.  
The benefit is part of Governor Whitmer's Healthy Moms Healthy Babies initiative to help improve maternal and infant health outcomes. The state's Chief Medical Executive Dr. Natasha Bagdasarian has issued a standing recommendation that doula services are medically necessary and should be offered to families covered by Medicaid insurance.  
The addition of doula services follows the expansion of Medicaid coverage for a full 12-month postpartum period announced in May 2022. Access to high quality health care services is a critical component of statewide efforts in addressing maternal morbidity and mortality rates in Michigan. Maintaining Medicaid coverage for a full year provides access to critical health and dental services during the first year after pregnancy, which can help to address persistent health disparities.  
Michigan has made strides in improving maternal and infant health yet continues to suffer from one of the highest infant mortality rates in the nation. Between 2019-2021, infant deaths occurred disproportionately among Michigan's Black and Native American infants, at rates of 14.1 and 10.5 per 1,000 live births, respectively, compared to a rate of 4.6 per 1,000 births among white infants. Disparate rates of infant death have persisted due to systemic inequities.   
In her recommendation, Bagdasarian said, "In an effort to improve maternal and infant health outcomes for individuals covered by Medicaid, and consistent with 42 CFR 440.130(c), I have determined based upon my professional experience and the infant and maternal mortality rates in Michigan, that doula services are medically necessary for all pregnant or postpartum Medicaid recipients. Doula services should be explained and offered to this beneficiary population. I hereby recommend that doula services be offered immediately and on an ongoing basis to Medicaid recipients until such time as determined no longer necessary."  
Doula support may include, but is not limited to:   
Prenatal services, which include:   

Honoring personal and cultural childbirth preferences.  

Supporting health literacy and knowledge.  

Assisting with the development of a birth plan.  

Providing emotional support and encouraging self-advocacy.  

Reinforcing practices known to promote positive outcomes, such as breastfeeding.  

Identifying and addressing social determinants of health.  

Coordinating referrals to community-based support services (e.g., WIC, behavioral health services, transportation, home visiting services). 
Labor and delivery services, which include:
Providing continual physical comfort measures, information and emotional support.  

Advocating for the needs of the birth person.  

Being an active member of the birth team.   

Postpartum services, which may include:  

Sharing education regarding newborn care, nutrition and safety.  

Supporting breastfeeding.  

Providing emotional support and encouraging self-care measures.  

Offering support in attending recommended medical appointments.  

Identifying and addressing social determinants of health.  

Coordinating referrals to community-based support services (e.g., WIC, behavioral health services, transportation, home visiting services).  

Linking families to grief support services, if needed.

For more information, visit the MDHHS website

.   
TAX RETURN FRAUD PREVENTION
The Michigan Association of Certified Public Accountants (MICPA) has resources to protect yourself against fraudulent tax return preparation. Feel free to read through their resource, the "Top 10 Questions to Ask a Tax Preparer: Tips, Hints & Warning Signs."
This document is a free resource available in both English and Spanish, providing information that taxpayers should keep in mind if they decide to hire a paid tax preparer. It also features a glossary of common income tax terminology and legal information for reporting suspicious activity. 
DISTRICT MAP