Friends, 
I hope this newsletter reaches you and your family safe and healthy. For those with friends and family studying or working at Michigan State University, you have my deepest sympathy, thoughts and prayers. Please know that I am working alongside my colleagues to deliver legislation to prevent tragedies like this from continuing to occur.   
Featured in this newsletter: 
Legislative Updates 

Gov. Whitmer's FY23/24 Budget Recommendations 

Detroit High School Basketball Player on Life Support Protocol after Cardiac Arrest 

AG Nessel: Phishing Scam Notice 

Michigan Achievement Scholarship 

Upcoming Events 

Meet my staff 
Please do not hesitate to call my office at (517) 373-0990 or reply to this email if you have any questions or need assistance. 
 
Working for you, 
Sylvia Santana
State Senator
District 2
LEGISLATIVE UPDATES 
Senate Bill 32: Police Poaching  
Senate Bill 32 which would allow the Detroit Police Department and other police departments to enter tuition contracts with recruits. Currently, DPD recruits and trains officers through their very own police academy; which the taxpayers of Detroit pay for. Unfortunately, the current state law does not allow the city of Detroit to retain those recruits once they receive their MCOLES certification. 
This means the citizens of Detroit pay for training officers that may never work a day in the city. With SB 32, law enforcement agencies could recruit and pay for training in return for a guaranteed four years of service to the city. If a law enforcement wants to leave within those four years, they may pay back the city for the training, the gaining agency may back the city. If the department believes it is in the best interest of everyone, they may waive the payback or if the officer decides to leave law enforcement, then there is no payback.   
SB 32 received a hearing in the Senate Committee on Civil Rights, Judiciary, and Public Safety on February 16, 2023.
Making Juneteenth an official state holiday 
On February 1, I re-introduced legislation today that would establish "Juneteenth," or June 19, as a state-recognized holiday.   
The oldest nationally celebrated commemoration of the end of slavery in the U.S., Juneteenth is often attributed to the ratification of the 13th Amendment. However, this information is historically inaccurate, as Juneteenth is a celebration of when Union soldiers, led by Major General Gordon Granger, landed at Galveston, Texas with news that the Civil War had ended and that the enslaved were now free. This was two-and-a-half years after President Abraham Lincoln signed the Emancipation Proclamation, which had become official on Jan. 1, 1863.  
"Although freedom under the law was finally guaranteed, the truth is that Black and Brown people have faced the brunt of the U.S. government to this day. Along with celebrating the end of this dark chapter in American history, we must also face the hard truth that the hard-fought battle for justice is not over. The events of the past couple weeks have brought to bear the wounds of our past once more, reminding us that the work is not done in this country. With this bill, I urge our great state to set an example of what it looks like to recognize the ending of slavery while also striving to take the lead on guaranteeing equal rights for every American."  
Establishing Juneteenth as an official state holiday supports an ongoing effort to expand racial justice and equity in Michigan and further promotes the commemoration of when all slaves heard the news that they were emancipated from slavery. 
Detroit Police Department Explorers Program visit State Capitol 
On February 22, over 50 students and police officers from the various police precincts in Detroit visited the Capitol in Lansing. The Explorers and their police mentors spent time with me in the Senate Chamber as we discussed the legislative process, a day in the life of a Senator, and how they can make an impact on Legislation. It was so amazing to see these wonderful future leaders in Lansing.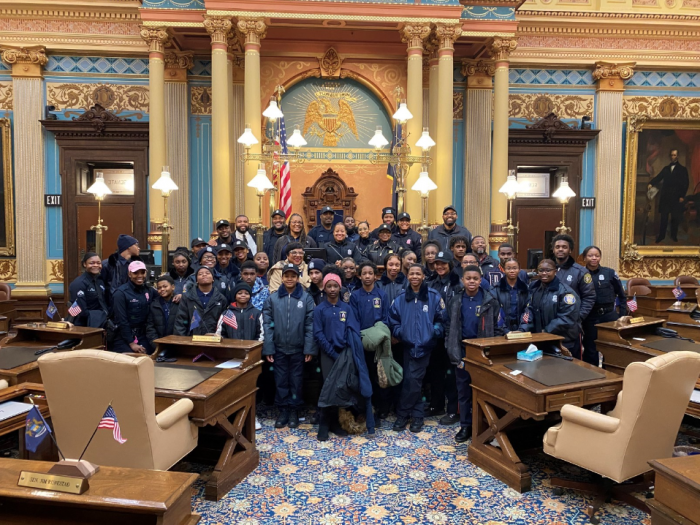 GOV. WHITMER'S FY23/24 BUDGET RECOMMENDATIONS 
On Wednesday, February 8, Gov. Whitmer introduced her executive budget proposal to lower costs, grow our economy, and build a brighter future for Michiganders. The budget proposal includes investments to put money back in people's pockets, help students thrive in school, put more people on paths to higher education and good-paying jobs, improve public health, keep our communities safe, and rebuild our infrastructure—all without raising taxes by a dime. 
Highlights include: 
$614 million increase in per pupil funding, for a $458 per pupil increase (5%), to guarantee at least $9,608 per student. Also includes 5% increases for categories such as at-risk students, special education students and English language learners. 

$300 million toward mental health services and $318 million for school safety over two years. 

$280 million for water infrastructure projects, including service line replacements, water treatment facility upgrades and stormwater management systems. 

$200 million for regional empowerment grants, with additional $100 million for downtown development grants. 

$160 million to provide for universal school breakfast and lunch. 

$150 million for insulin affordability and manufacturing attraction.  

$140 million to temporarily expand Michigan Reconnect from age 25 to age 21.
DETROIT HIGH SCHOOL BASKETBALL PLAYER ON LIFE SUPPORT PROTOCOL AFTER CARDIAC ARREST  
Cartier Woods, a senior at Northwestern High School in Detroit, remained on a ventilator Friday in critical condition at Henry Ford Hospital after collapsing from cardiac arrest during a Tuesday night basketball game against Fredrick Douglass Academy. 
Woods collapsed three minutes into the game, telling a coach he was dizzy before he fell to the floor. CPR was administered immediately, and he was taken to the hospital by ambulance. 
Screening tests can prevent sudden cardiac arrest 
Simple screening tests can help doctors identify young athletes at risk for sudden cardiac arrest to prevent tragedy, Trivax said. Those tests are an electrocardiogram, commonly known as an EKG, and an echocardiogram. 
Corewell Health began offering those screenings free to high school athletes in 2007. 
"It shouldn't matter how many EKGs you need to do or how many echocardiograms you need to do to find one case," Trivax said. "We should only think about how we found one case. We saved one life. I feel very strongly about that." 
Since that first screening at Royal Oak High School, the health system has tested the hearts of 19,701 students, according to Jennifer Shea, manager of the Beaumont Student Heart Check Program. Of them: 
2,061 needed some sort of follow-up with a doctor. 

223 were advised to stop playing sports until they followed up with a cardiologist. In many cases, that was because conditions such as long QT syndrome, Wolff-Parkinson-White syndrome or other congenital heart conditions were identified. 

Nine were discovered to have hypertrophic cardiomyopathy. 
Parents who are interested in having their student-athlete tested for heart abnormalities can email Shea at Jennifer.Shea@Beaumont.org to be put on a notification list for the next screening event. Registration is required.
AG NESSEL: PHISHING SCAM NOTICE 
Attorney General Dana Nessel and the Michigan Department of Health and Human Services are reminding Michigan consumers to be aware of phishing text messages that claim their EBT benefit cards are locked. The message includes a phone number to call for help. Responding to these messages may allow scammers to access to the card's funds. 
EBT cards provide government food assistance, known as the Supplemental Nutrition Assistance Program (SNAP) or food stamps. This scam is serious as those who receive benefits rely on these funds to feed their families. 
If you are a SNAP recipient and receive a text message that your EBT card is locked, this is a scam. Do not respond.  
Don't share your EBT PIN with anyone outside your household.  

Check your EBT account regularly for unauthorized charges.  

Change your PIN number occasionally or if you suspect it was compromised. 

Don't click on links in unsolicited text messages 

Don't respond to suspicious or spam text messages 
Visit Michigan Attorney General Government Imposter Scams alert to learn more. 
MICHIGAN ACHIEVEMENT SCHOLARSHIP
The Michigan Achievement Scholarship application has opened for all high school seniors! This scholarship provides: 
Up to $2,750 if you attend a community college, per year 

Up to $5,500 if you attend a public university, per year 

Up to $4,000 if you attend a private college or university, per year 
There is no deadline for this scholarship. Students have 15 months from either their high school graduation or high school equivalency completion to enter college and use the funds they are awarded.  
High school seniors can get started by following these steps:  
UPCOMING EVENTS 
I have several Coffee & Conversation events I hope you will join me for. These events are a great way to share your questions, thoughts, and comments on the issues that matter most to you, as well as get a firsthand update on what my colleagues and I have been working on in Lansing. I hope to see you there! 
Coffee and Conversation with Sen. Santana 
WHEN: Monday, March 13, 2023, from 9 – 10:30 am  
WHERE: St. Suzanne Cody Rouge Community Resource Center, 19321 W Chicago, Detroit, MI 48228 
WHEN: Monday, March 13, 2023, from 11 – 12:30 pm 
WHERE: Henry Ford Centennial Library, 16301 Michigan Ave, Dearborn, MI 48126 
WHEN: Monday, March 13, 2023, from 1 – 2:30 pm 
WHERE: Campbell | Detroit Public Library, 8733 W Vernor Hwy, Detroit, MI 48209 
WHEN: Monday, March 13, 2023, from 3 – 4:30 pm 
WHERE: John F Kennedy, Jr. Library, 24602 Van Born Rd, Dearborn Heights, MI 48125
MEET MY STAFF 
As the State Senator for District 2, I have a wonderful staff that allows me to handle a wide range of issues across our community and my legislative duties. They are also available to assist you with questions, navigating State Departments, and finding resources for the issues you're facing.   
For Community events and other meetings, I am joined by: 
My legislative director, who handles questions relating to policy and legislation is: 
For those with scheduling requests, please reach out my executive assistant: 
My chief of staff, who handles staff actions and appropriations, is also available to answer questions: