Dear Neighbors,
I hope this newsletter reaches you and your family safe and healthy. As all of us know, it has been a tragic time at MSU. My office has heard from numerous individuals throughout our state echoing the point that thoughts and prayers are not enough. I want to share that last week Senate Democrats re-introduced legislation that has been held back by Republicans over the past four years.   
These bills will be taken up in the next week, which address three areas: 
Universal background checks save lives by ensuring people convicted of violent crimes like domestic violence cannot purchase guns and cause more harm. 

Extreme Risk Protection Order laws, also known as "red flag" laws, will save lives by giving families and law enforcement the tools needed to temporarily remove guns from the hands of people who have threatened to hurt themselves or others. 

Safe storage laws will save lives by ensuring responsible gun owners keep their firearms secure from children and prevent their firearms from falling into the wrong hands and being used to commit a crime.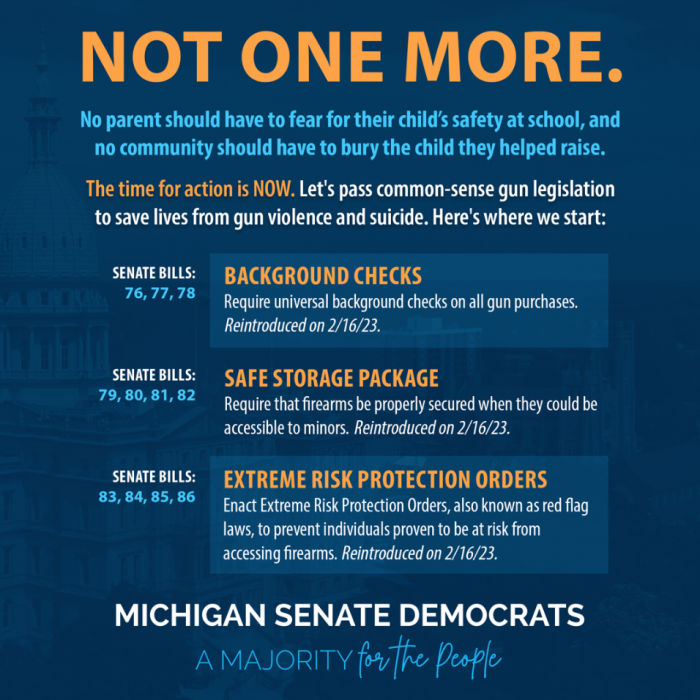 Featured in this newsletter: 
Gov. Whitmer's FY23/24 Budget Recommendations 

Screening tests can help prevent sudden cardiac arrest for student athletes 

AG Nessel: Phishing Scam Notice 

Michigan Achievement Scholarship 

District Map 
If you have any questions, want to comment on pending legislation, or resolve any issues in state government, please do not hesitate to contact my office by phone at (517) 373-8360 or by email at SenPWojno@senate.michigan.gov. 
Warmest regards, 
Paul Wojno
State Senator
District 10
GOV. WHITMER'S FY23/24 BUDGET RECOMMENDATIONS 
On Wednesday, February 8, Gov. Whitmer introduced her executive budgetproposal to lower costs, grow our economy, and build a brighter future for Michiganders. The budget proposal includes investments to put money back in people's pockets, help students thrive in school, put more people on paths to higher education and good-paying jobs, improve public health, keep our communities safe, and rebuild our infrastructure—all without raising taxes by a dime. 
Highlights include: 
$614 million increase in per pupil funding, for a $458 per pupil increase (5%), to guarantee at least $9,608 per student. Also includes 5% increases for categories such as at-risk students, special education students, and English language learners. 

$300 million toward mental health services and $318 million for school safety over two years. 

$280 million for water infrastructure projects, including service line replacements, water treatment facility upgrades, and stormwater management systems. 

$200 million for regional empowerment grants, with additional $100 million for downtown development grants. 

$160 million to provide for universal school breakfast and lunch. 

$150 million for insulin affordability and manufacturing attraction.  

$140 million to temporarily expand Michigan Reconnect from age 25 to age 21.

 
SCREENING TESTS CAN PREVENT SUDDEN CARDIAC ARREST FOR STUDENT ATHLETES 

Simple screening tests can help doctors identify young athletes at risk for sudden cardiac arrest. The tests are an electrocardiogram, commonly known as an EKG, and an echocardiogram.  Corewell Health, formerly Beaumont Health, began offering such screenings for free to high school athletes in 2007. 
The health system has tested the hearts of over 19,000 students, according to Jennifer Shea, manager of the Beaumont Student Heart Check Program. Of them: 
2,061 needed some sort of follow-up with a doctor. 

223 were advised to stop playing sports until they followed up with a cardiologist. In many cases, that was because conditions such as long QT syndrome, Wolff-Parkinson-White syndrome or other congenital heart conditions were identified. 

Nine were discovered to have hypertrophic cardiomyopathy. 
Parents who are interested in having their student-athlete tested for heart abnormalities can email Shea at Jennifer.Shea@Beaumont.org to be put on a notification list for the next screening event. Registration is required.
AG NESSEL: PHISHING SCAM NOTICE 
Attorney General Dana Nessel and the Michigan Department of Health and Human Services are reminding Michigan consumers to be aware of phishing text messages that claim their EBT benefit cards are locked. The message includes a phone number to call for help. Responding to these messages may allow scammers to access to the card's funds. 
EBT cards provide government food assistance, known as the Supplemental Nutrition Assistance Program (SNAP) or food stamps. This scam is serious as those who receive benefits rely on these funds to feed their families. 
If you are a SNAP recipient and receive a text message that your EBT card is locked, this is a scam. Do not respond.  
Don't share your EBT PIN with anyone outside your household.  

Check your EBT account regularly for unauthorized charges.  

Change your PIN number occasionally or if you suspect it was compromised. 

Don't click on links in unsolicited text messages. 

Don't respond to suspicious or spam text messages. 
Visit Michigan Attorney General Government Imposter Scams alert to learn more. 
MICHIGAN ACHIEVEMENT SCHOLARSHIP 
The Michigan Achievement Scholarship application has opened for all high school seniors! This scholarship provides: 
Up to $2,750 if you attend a community college, per year. 

Up to $5,500 if you attend a public university, per year. 

Up to $4,000 if you attend a private college or university, per year. 
There is no deadline for this scholarship. Students have 15 months from either their high school graduation or high school equivalency completion to enter college and use the funds they are awarded.  
High school seniors can get started by following these steps:  

DISTRICT MAP
I am proud to serve Michigan's 10th Senate District which includes portions of Sterling Heights, Warren, Detroit, and all the City of Center Line. Feel free to visit the interactive map on my website for more information.