Senate District 9 Update

June 18, 2021
Friends,
It was an honor this week to host our military men and women from across the state at our annual Memorial Day ceremony. It was also a special privilege to have as my guest, one of my son's best friends, whom I have known since he was three years old: Lt. Charles Debczak, a recent graduate of the 2021 class of West Point Military Academy in New York.
In legislative news, I'm pleased to report that the Michigan Senate this week passed a bill appropriating federal stimulus money to the educational needs it was provided for. Also included in this newsletter is important information on a possible Consumers Energy scam you should be aware of, an update on legislation to invest in our wastewater systems and infrastructure, Gov. Whitmer's historic announcement on providing childcare assistance, and more.
Warm regards, 

Paul Wojno
State Senator
9th District
Senate Passes Nearly $4.4B in K-12 School Funding
On Tuesday, June 15, the Michigan Senate passed a $4.38 billion coronavirus relief funding bill for K-12 schools in Michigan.
The approved legislation (which you can read in detail on the legislature's website) appropriates the entirety of the federal stimulus money provided to Michigan's School Aid Fund from the American Rescue Plan. Most of the money in the bill — $3.35 billion — is from the Elementary and Secondary School Emergency Relief III, with another $840.7 million in funds that have not yet been appropriated but are also included for distribution in school districts.
Other important highlights include:
$92 million from Emergency Assistance to Nonpublic Schools funding, and
$86.8 million from the Governor's Emergency Education Relief funding for nonpublic schools.
Provisions were also made in the legislation related to summer school and before- and after-school programs. For instance, Michigan students will now be allowed to enroll in summer programs offered in any district, not just their local district.
School districts will also be able to use local assessments to make determinations of children with the greatest needs along with benchmark data for summer programming. The bill also removes the requirement that summer programs take place in-person.
Honoring Our Military Professionals with Annual Memorial Day Service
Earlier this week, the Senate held an annual Memorial Day Ceremonial Service, honoring our heroes in uniform — both past and present — who gave the ultimate sacrifice. Each senator is permitted to invite one guest from their district. This year was a special moment, as I had the opportunity to invite a young man who I have known since he began school: Lt. Charles Debczak, a Warren native who graduated in 2017 from Center Line High School and the Macomb Mathematics Science and Technology Center.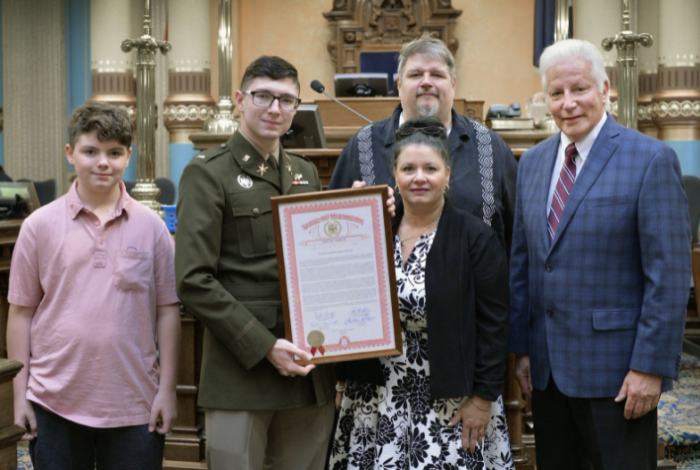 Debczak just graduated this spring from the U.S. Military Academy at West Point, where he earned a Bachelor of Science in Space Science with Honors. While there, some of his assignments included serving as the Operations Sergeant Major, Adjutant, and Operations Officer for 2nd Battalion, 4th Regiment of the U.S. Corps of Cadets. He was commissioned a second lieutenant in the Air Defense Artillery branch of the Regular Army with first assignment to the 11th Air Defense Artillery Brigade at Fort Bliss, Texas upon his completion of the Air Defense Artillery Basic Officer Leader Course at Fort Sill, Oklahoma.
His awards and decorations include the Basic Army Space Badge, National Defense Service Medal, Military Outstanding Volunteer Service Medal, German Armed Forces Proficiency Badge in Silver, and the Norwegian Foot March Badge in Bronze.
Congratulations, Lt. Debczak on your accomplishments, and thank you to all those who have or continue to serve our nation!
Consumers Energy Warns About Scam to Gain Personal Information
Every day across Michigan, criminals pretending to be from Consumers Energy and other utilities try to scam people out of money and personal information. With accounts of both phone and in-person scams identified in several parts of the state, Consumers Energy is sharing information so residents know how to recognize and report these scams.
Recently, there has been a spike of in-person solicitations in Lansing, as well as scam phone calls occurring across the state demanding energy bills be paid immediately or service will be shut-off. While there are times Consumers Energy does need to shut electric and/or natural gas service off over safety, security or non-payment reasons, Consumers employees will never threaten to shut off service if you do not comply with immediate demands.
Here are more indications it might be a scam:
Phone call demands payment within a short period of time, usually within an hour or two.
Caller insists payment be made with specific form of payment, like a pre-paid credit card. Consumers Energy does not require payments be made with this type of card.
Visits to your home without an appointment and solicitor requests energy bill and/or personal information.
Phone may be "spoofed" making it appear as if the call is from Consumers Energy, or an 800 or 888 phone number to call that isn't one your utility provided.
Here are tips to protect yourself from getting scammed:
Do not pay your energy bill over the phone using a prepaid credit card.
Never share personal information, such as a social security number, energy account information or money to anyone you don't know.
If you receive a call or at-home visit and think it may be a scam, call Consumers Energy at 800-477-5050 or your utility provider immediately. Also report the situation to local police.
Do not let any solicitor in your home that you do not know.
A contractor or employee for Consumers Energy wears a company identification badge and will gladly show it upon request.
If someone comes to your door representing Consumers Energy, ask to see their ID badge. You can verify the person is employed by Consumers Energy by calling the 800 number above.
Legislation to Invest in Public Infrastructure and Wastewater Protection
COVID-19 has magnified the need to ensure all Michiganders have access to clean, safe, affordable water. This starts with healthy surface and groundwater, and clean discharges of wastewater into our rivers and lakes. I'm proud to be a part of a bipartisan, two-bill package that will budget approximately $500 million dollars under the MI Clean Water Plan to:
Address sewer overflows
Increase green infrastructure
Provide relief for failing septic systems
Assist with contamination reduction and Water Asset Management Grants
Support the Lead Service Line Replacement Program, and
Fund infrastructure grants
An additional $3 million will be granted to locals for stormwater and wastewater projects. More information about this legislation can be found by clicking on the bill links: Senate Bill 319 and Senate Bill 320.
Gov. Whitmer Announces Record Investment in Childcare
On Monday, June 14, Gov. Gretchen Whitmer announced a $1.4 billion investment in federal childcare funding to expand access to high-quality childcare, make it more affordable, and support childcare professionals as part of the administration's Economic Jumpstart Investment. Highlights include:
Making childcare more affordable for families.
Increase income eligibility from 150% of the federal poverty level (FPL), $39,300 annually for a family of four, to 200% or $53,000 annually for a family of four from August 1, 2021 – September 30, 2023, making low or no-cost childcare available to an estimated 150,000 more children.

Thereafter, income eligibility permanently increases to 160% FPL, $41,920 annually for a family of four.

Increase access to the childcare subsidy for student parents enrolled in Michigan Reconnect and Futures for Frontliners for a 12-month period. Individual student parents will leave the program per the exit requirements.
Supporting early educators.
Offer premium pay for childcare professionals with stipends paid quarterly from July 2021 – September 2022.
Maintain mental health supports provided by infant and early childhood mental health consultants for children enrolled in childcare.
Stabilizing childcare businesses.
Raise childcare subsidy rates by 20% for providers to move closer to the market rate for childcare.
Provide business stimulus grants to all childcare providers to help them remain open and serving Michigan families.
Expanding access to childcare.
Provide grants to new and expanding sites in communities without adequate childcare.
Additional Food Assistance Payments in June
The Michigan Department of Health and Human Services (MDHHS) has announced that all Michigan families who are eligible for food assistance benefits will receive an additional payment in June in response to the COVID-19 pandemic. Approximately 700,000 Michigan households will benefit under approval from the U.S. Department of Agriculture Food and Nutrition Service.
All households will receive an increase of at least $95 monthly, even if they are already receiving the maximum payment or are close to that amount. Households that received over $95 to bring them to the maximum payment for their group size will continue to receive that larger amount. Eligible clients will see additional food assistance benefits on their Bridge Card from June 12-22. Additional benefits will be loaded onto Bridge Cards as a separate payment from the assistance that is provided earlier in the month.
Eligible families do not need to re-apply to receive the additional benefits. People who receive food assistance can check their benefits balance on their Michigan Bridge Card by going online to Michigan.gov/MIBridges or calling a consumer service representative toll-free at 888-678-8914. They can ask questions about the additional benefits by calling or emailing their caseworker.
Be in the Know: CPR & AEDs Save Lives
Earlier this month, we recognized National CPR & AED Awareness Week. During this time, the American Heart Association shines a spotlight on how lives can be saved if more people know CPR and how to use an automated external defibrillator (AED).
Less than half of people who experience an out-of-hospital cardiac arrest receive the immediate help they need before professional help arrives, and the majority (70%) of out-of-hospital cardiac arrests happen in homes. So, if you are called on to give CPR in an emergency, you are likely to be trying to save the life of someone you love: a child, a spouse, a parent, or a friend. CPR, especially if performed immediately, could double or triple a cardiac arrest victim's chance of survival.
To learn how you can help in a cardiac arrest emergency, visit: Heart.org/HandsOnlyCPR and watch the Hands-Only CPR instructional video and share it with the important people in your life. The video takes two minutes and explains how two steps can save a life: Call 911, and push hard and fast.
You can also find a CPR class near you at Heart.org/FindACourse.