District 9 News & Update

September 24, 2021
Friends,
I hope the first few days of fall have treated you well. Please continue to keep yourselves and families safe and healthy.
In this newsletter is important information related to the passing a balanced budget for Fiscal Year 2022. Also included is information on Michigan Department of Environment, Great Lakes, and Energy new Facebook page and an update on Governor Whitmer's work to make electric vehicles and mobility more accessible. In addition, there is information on ways your elected officials are working to bring their services to you and our community.
Should you need any help, please do not hesitate to contact my office by phone at (517) 373-8360 or by email at SenPWojno@senate.michigan.gov. We are happy to serve you.
Warmest regards, 

Paul Wojno
State Senator
District 9
HISTORIC BALANCED BUDGET AGREEMENT ENSURES A STRONGER, MORE RESILIENT MICHIGAN
On Tuesday, Sept. 21 and Wednesday, Sept. 22, members of the Michigan Legislature cast their votes in support of a Fiscal Year 2022 budget that includes critical investments in the kitchen-table issues that matter most to Michiganders and that ensures a stronger, more resilient Michigan as residents continue to confront the challenges that lie ahead.
The bipartisan budget agreement combines state and federal funds to provide an investment in our future. These dollars will allow us to rebuild Michigan in the wake of the COVID-19 pandemic. Putting state residents first, it fully funds numerous programs to help workers get the skills they need to earn good-paying jobs, increases the number of children eligible for quality and affordable childcare, and invests in our roads and bridges across the state.
Other key investments in the budget include:
Fully funding Michigan Reconnect and Futures for Frontliners, putting thousands of Michiganders on a path to higher education or skills training.
Sending additional funds to replace lead service lines and establishing an emergency fund to deal with any future drinking water crises.
Delivering resources to tackle PFAS in drinking water supply.
Investing $196 million to repair or replace bridges in serious or critical condition.
Creating a pilot program to bring down utility bills for families by improving home weatherization and energy efficiency.
Growing the Healthy Moms, Healthy Babies in-home visitation program for infants born with substance exposure.
Expanding childcare eligibility to 105,000 more children, which will help thousands of working parents continue to work and allow them peace of mind, knowing that their children are safe and cared for.
Increasing rates for childcare providers and growing opportunities for infants and toddlers to have the early and supportive interventions they need to succeed.
The budget also adds a historic $500 million deposit into Michigan's rainy-day fund, for a total balance of $1.4 billion, ensuring Michigan is prepared for future crises. This fiscally responsible investment is the largest one-time deposit in state history and illustrates the commitment of the Governor and Legislature working together and remaining focused on the state's future success.
The legislature will continue to build upon this progress in the days ahead and work with the governor to allocate and invest billions in federal funding the state has received through the American Rescue Plan, in addition to more funding Michigan is anticipated to receive from the federal infrastructure bill.
ECONOMIC NEWS: ADVANCEMENTS IN ELECTRIC VEHICLE AND MOBILITY LANDSCAPE 

On Thursday, Sept. 22, Governor Gretchen Whitmer announced two new initiatives to continue advancing Michigan's electric vehicle (EV) and mobility landscape by building out critical charging infrastructure in the state and ensuring the strong pipeline of talent needed for automotive mobility and electrification career pathways. The Lake Michigan EV Circuit and the Michigan Revolution for the Electrification of Vehicles (MiREV) build on the launch of the governor's MI New Economy plan that focuses on growing the middle class, supporting small businesses, and investing in our communities.
SECRETARY OF STATE MOBILE OFFICE WILL BRING GOVERNMENT SERVICES TO THE PEOPLE
Secretary of State Jocelyn Benson announced that she is launching a mobile office next month to serve Michiganders with limited access to Secretary of State offices and the internet, including senior centers, homeless shelters, foster care facilities, and other community organizations.
The new Secretary of State Mobile Office will travel to and operate out of the lobbies and gathering places of partner organizations to offer most Secretary of State services, including processing driver's license and state ID applications, corrections and renewals; disability parking placard applications, renewals and replacements; and vehicle title and registration transactions.
The mobile office will be based in Southeast Michigan and funds have been requested from the state legislature for additional mobile offices to serve residents in other urban and rural regions of the state.
Community organizations that would like to host the mobile office can get more information and apply at Michigan.gov/SOSMobile.
MICHIGAN EGLE LAUNCHES FACEBOOK PAGE
On Monday, Sept. 20, the Michigan Department of Environment, Great Lakes, and Energy launched its new Facebook page.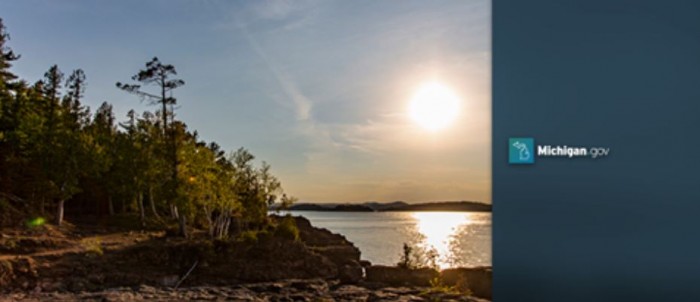 EGLE Facebook joins Twitter and LinkedIn as avenues to engage Michiganders on EGLE's work to protect the environment and public health. Other ways to engage with EGLE include visiting the department's website and subscribing to the MI Environment publication and/or any of the agency's many bulletin delivery lists.
EGLE will use the new page to share updates, notices, and information on environmental topics, links to online resources within and outside of EGLE, photos and fun facts on Michigan's natural resources and tips to help Michiganders understand and take ownership of their health and environment.
Michiganders are encouraged to follow the EGLE Facebook page and actively participate by posting comments and photos. The account will adhere to and enforce the State of Michigan social media customer use policy, with light moderation of comments and interactions when necessary.